The toxics segment of our Ecosystem Condition monitoring was a three year collaboration with NOAA fisheries and USGS to investigate how toxic contaminants (particularly bioaccumulative ones) are moving through the lower river and food chain and ultimately affecting juvenile salmon. Data collection occurred in 2004 - 2005, with analysis and reporting in 2006. We sampled for contaminants in water, sediment, and juvenile Chinook salmon at 6 sites in the lower Columbia.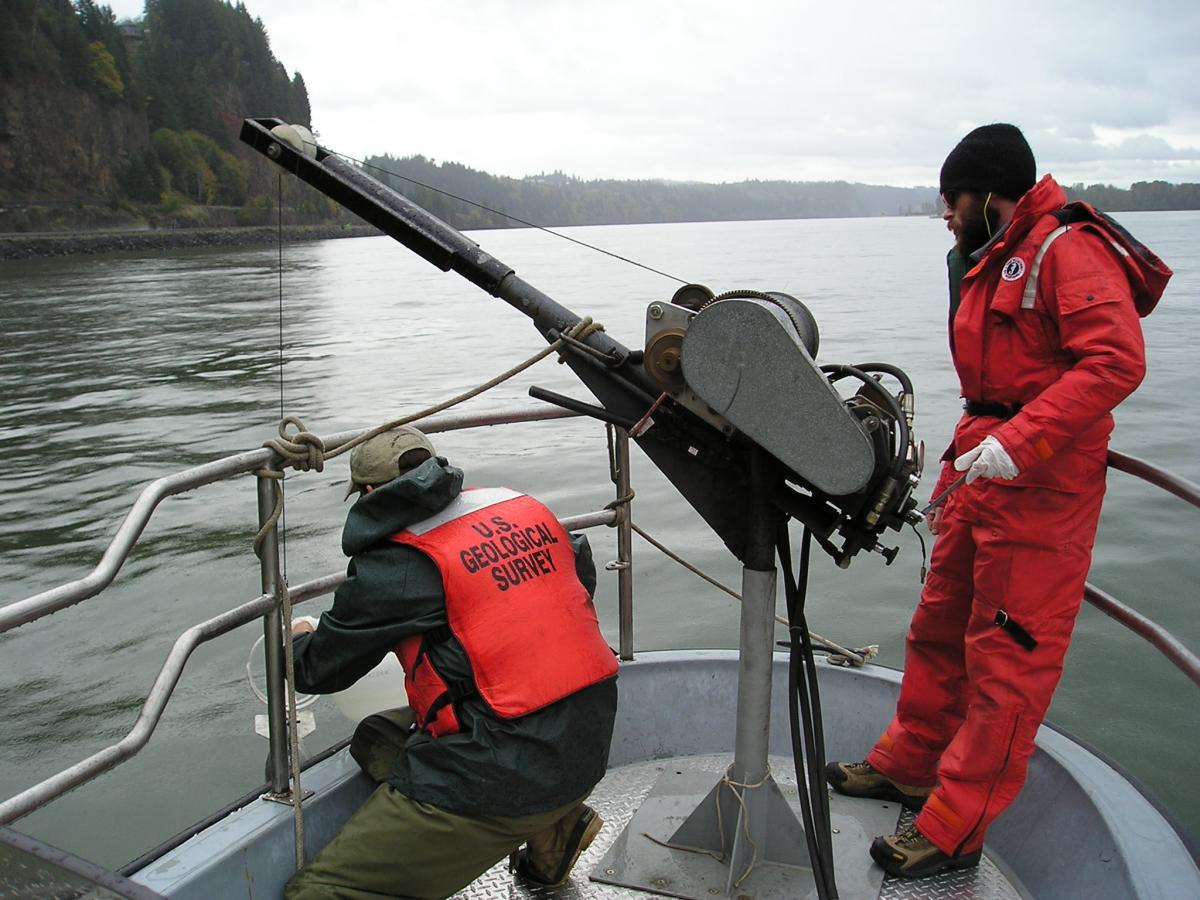 What are Toxic Contaminants?
Common toxic contaminants found in the Columbia River system include pollutants like polychorinated biphenyls (PCBs), polycyclic aromatic hydrocarbons (PAHs), polybrominated diphenyl ethers (PBDEs, or flame retardants), DDT and other legacy pesticides, current use pesticides, pharmaceuticals and personal care products, and trace elements. These contaminants can impair water quality, affect aquatic organisms like insects and salmon, and impair enivronmental and human health.
Foundation for the Estuary Partnership Toxics Monitoring Study: The Bi-State Program
The Lower Columbia River Bi-State Water Quality Program (1990-1996) was the first comprehensive, large-scale study of toxics in the lower river, and provided a foundation for the Estuary Partnership toxics study. The six-year public-private partnership was jointly administered by the Washington Department of Ecology and the Oregon Department of Environmental Quality, and was advised by a Bi-State Steering Committee. Committee members came from the many groups that take an active interest in the lower Columbia River: environmentalists, Native American tribes, the pulp and paper industry, private citizens, public ports, local governments, commercial and recreational fishing interests, the Northwest Power Planning Council, and federal agencies dealing with environmental issues. The program was paid for by citizens of Washington and Oregon (1/3 each), the pulp and paper industry (1/6), and public ports (1/6).
The Bi-State Program consisted of three phases: 1) gathering existing data so researchers could start with a clear picture of what was already known about the river and its problems; 2) reconnaissance surveys – broad preliminary studies about existing environmental conditions and pollutants of concern; and 3) advanced studies that looked at priority problems based on findings in previous studies.
The Bi-State Program generated over 50 technical reports. As the successor to the program, the Estuary Partnership maintains copies of all of these reports. These can be accessed here, in our Reports and Publications library.
An integrated summary of findings from all of the reports is available here. Key findings include the following:
Dioxins and furans, metals, PCBs, PAHs, and pesticides impair water, sediment, and fish, and wildlife in the lower river.
Many toxic contaminants are moving up the food chain and accumulating in the bodies of animals that eat fish. Reproductive abnormalities were observed in river otters, some of whom had concentrations of PCBs that exceeded threshold levels. Nesting bald eagles showed signs of accumulating DDE and PCBs at levels high enough to impair reproduction.
Arsenic, a human carcinogen, exceeded both the US EPA ambient water quality criteria for protection of human health and the US EPA human health advisories for drinking water (Fuhrer et al. 1996).
Sediment contamination was highest near urban and industrial areas, with contamination in excess of levels of concern for DDE (a breakdown product of DDT), PCBs, dioxins and furans, and PAHs.
The amount of riparian habitat and tidal swamps and marshes has decreased by as much as 75 percent from historical levels.
Beneficial uses such as fishing, shellfishing, wildlife, and water sports were impaired.
The Bi-State Program concluded that people who eat fish from the lower Columbia over a long period of time are exposed to health risks from arsenic, PCBs, dioxins and furans, and DDT and its breakdown products (Tetra Tech, Inc. 1996).
Findings from the Estuary Partnership Toxic Contaminants Monitoring Study
The Estuary Partnership's toxics monitoring revealed some key findings, including the following:
Urban and industrial portions of the lower river contribute significantly to contaminants levels in juvenile salmon.
Juvenile salmon originating from elsewhere in the Columbia Basin (like the Snake River and middle and upper Columbia) are absorbing toxic contaminants during their time rearing and feeding in the lower Columbia River.
Juvenile salmon are accumulating DDT in their tissue and are exposed to estrogen-like compounds in the lower river (likely associated with pharmaceuticals and personal care products).
Concentrations of the trace element copper were present at levels that could interfere with crucial salmon behaviors (like imprinting, homing, schooling, predator detection, predator avoidance) and spawning.
The most frequently detected pesticides in water were atrazine, simazine, and metolachlor, which are suspected hormone disruptors.
For detailed information on the study, users can download our Lower Columbia River and Estuary Ecosystem Monitoring Project: Water Quality and Salmon Sampling Report, published in 2007. The report includes discussions of the contaminants, sampling methods, and next steps for addressing toxics in the lower river. Report hard copies are also available from the Estuary Partnership office.
For more detailed, location based information for any Estuary Partnership Toxics and Conventional Pollutants Monitoring site, click here to view our Interactive Monitoring Map.