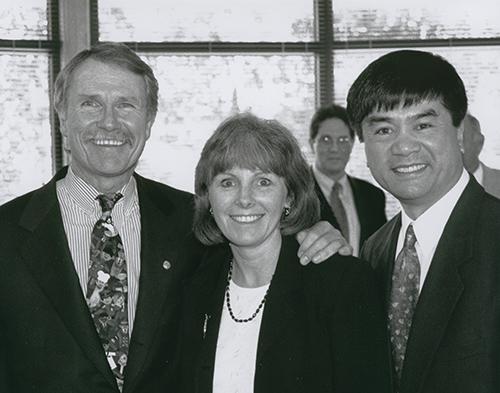 In 1995, the lower Columbia River was designated as an Estuary of National Significance, recognizing the river's importance to the Pacific Northwest and the entire United States. But the Columbia's habitat and water quality were severely degraded after decades of development and pollution. 
The governors of Oregon and Washington, along with the Environmental Protection Agency, needed an organization to further study the lower river and coordinate its restoration. They created the Lower Columbia Estuary Partnership to study and care for the lower river, and in 1999 we incorporated as a non-profit.
For more than 25 years, we have been studying the river, restoring habitat, and engaging people of all ages to learn about and care for the Columbia.
Read More About Our History

 

Before the Estuary Partnership, there was the Bi-State Water Quality Program, a group convened by the Governors of Oregon and Washington and charged with building a body of scientific evidence about the degradation of the lower Columbia River. Until that time, there was little focus on the Columbia River below Bonneville Dam. The studies they did found that the water, fish, and sediments were contaminated with a range of pollutants, and certain sites were particularly contaminated. And they found that since white settlement began, over 50% of lower Columbia wetlands had been damaged or destroyed. The negative effects from the entire upper basin compound in the estuary—everything flows downstream. 

As a result of these findings, the Governors nominated the lower Columbia River estuary to the US Environmental Protection Agency for designation as an "Estuary of National Significance." In doing so, they created a public entity to focus on the lower river. That group was charged to unite the efforts of the two states, Tribes, agencies, local partners and the private sector; set regional strategies; build on existing efforts; and address the degradation in the lower river. EPA accepted the lower river into the National Estuary Program in 1995. 

From 1996 to 1999, a group of 34 representatives of various river interests developed our Comprehensive Conservation and Management Plan, the guiding document of our organization and our work. The group used extensive scientific research, analysis of historical data, as well as public input to ensure that the Management Plan met local needs, represented local and regional values, and was supported by local communities.