We are excited to welcome two new members of our team, who will be with us through the next year working on a variety of projects with us.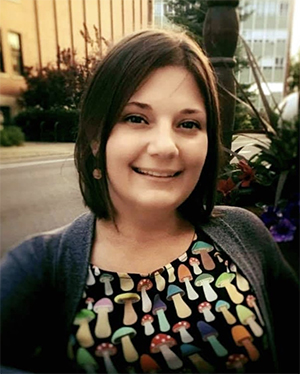 Katrina Poremba was raised on a hobby farm in Idaho, where part of her daily life included chores around the pasture and backyard pond. At 17, she attended Humboldt State University to study marine biology. As an undergraduate, Katrina went abroad for a year to Australia to continue her studies. She worked at the university's marine laboratory and wrote her thesis on the unintentional benefits of the introduced species watersipora (bryozoan) to Humboldt Bay's native hermisenda (nudibranch), a controversial subject at the time. She graduated with a bachelor's in marine biology, a bachelor's in zoology, a minor in scientific scuba diving, and a minor in leadership scuba diving.
After graduation, Katrina worked at Zoo Montana as a Keeper for the North America exhibits until joining NOAA Corps as a commissioned officer for over 3 years. With NOAA, she worked as a Dive Master for NOAA Ship Rainier in Alaskan waters, marine mammal specialist, small boat officer, damage control officer, environmental compliance officer, and a hydrographic survey technician. In 2016, Katrina left NOAA to pursue a career in conservation biology. Her graduate thesis was on the Amazon ornamental fish trade, focusing on humane ways of collecting and distributing fish to international shops without inhibiting native fish population growth, in order to give Indigenous peoples a government-funded career and to reduce their reliance on jobs in timber and mining in the rainforest. 
After graduating from Nebraska State University with a master's of science in conservation biology, she learned of VetsWork and applied immediately. Katrina says her passion is in conservation and "the opportunities VetsWork has to offer seem endless in this subject, from water quality to fisheries." She hopes this internship is the gateway to her dream career with NOAA as civilian scientist. Katrina is excited to join VetsWork and to enjoy the natural areas around Portland in her off time, from hikes in the Gorge to snowshoeing Mt. Hood with her dog.  
Sarah Russo hails from Oak Harbor, Washington. She holds a bachelor's degree in environmental management from the University of Maryland Global Campus. Sarah served in the US Navy from 2012 to 2016 as an Information Systems Technician 2nd class. Her time in the Navy took her to Naples, Italy and Norfolk, Virginia, where she conducted physical information security inspections and also volunteered at Back Bay Fish and Wildlife Reserve for beach clean ups. Sarah has experience with base cleanups, the Chesapeake Bay Foundation, and even has some experience with conducting whale necropsies.
Sarah is interested in serving as a VetsWork intern with the Estuary Partnership because she believes that it will serve as a gateway to a career. "I have always dreamed of assisting in conservation and restoration of the Columbia River and its estuary. I've always loved the river and surrounding areas and would be grateful to give back to this beautiful region." Sarah is particularly interested in the concept of rewilding in conservation.
Sarah is excited to participate in habitat restoration projects, and is most eager to help with research projects. She is also highly interested in ecology and looks forward to learning more about it.
Sarah is a mom of two, and her hobbies include hiking, kayaking, and baking. Her future goals are to complete graduate school and to enjoy a meaningful career in the environmental field. 
Our VetsWork interns are generously paid for by NOAA, and administrated by Mt. Adams Institute.