Summertime is an extremely important season for data collection at habitat restoration sites and reference sites throughout the lower Columbia River. This summer, the Estuary Partnership had the support of two excellent Research Technicians to complete the extensive list of field work monitoring tasks.
Sophie D'Arcy and Derek Marquis spent most of their time with the Estuary Partnership's Monitoring Team in the field gathering data and learning about wetland plants and hydrology. Along the way, the pair had memorable encounters with frogs, birds, bugs, and river otters.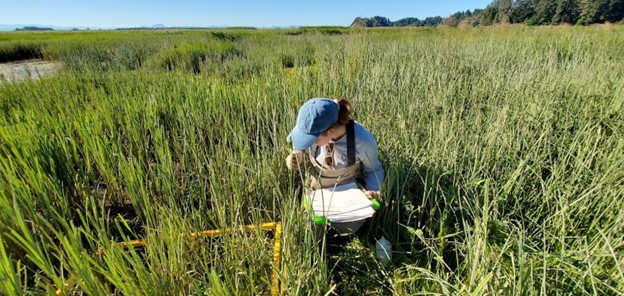 Field work is not for the faint of heart, and both Sophie and Derek reported multiple encounters with mud, which as you can imagine, is ubiquitous when studying wetlands. One of Sophie's memorable moments was sinking (and being rescued) in the mud. For Derek, it was getting the Estuary Partnership Prius stuck in the mud.
The summer field season also yielded multiple celebrations, including a Harry Potter-themed birthday party for Sophie!
This work left a lasting impression on both Sophie and Derek. "Getting to see our sites and the beauty they offer has increased my appreciation for the great outdoors more than I could have imagined," said Derek. "I am grateful for working with such a great, knowledgeable, and hardworking team that made my experience not only informative but exciting and fun."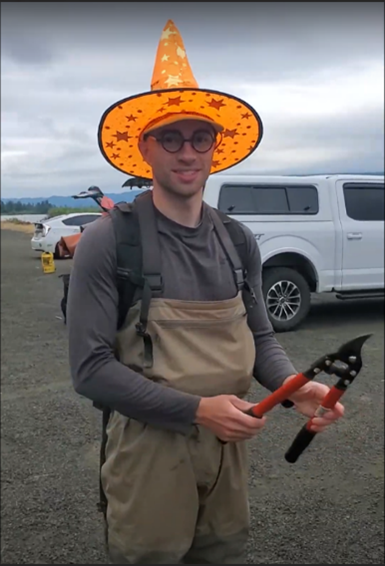 The Estuary Partnership thanks both Sophie and Derek for their hard work, perseverance, and strong attention to detail that made this summer a great field season. Thank you!