The Steigerwald Reconnection Project, a $32 million restoration project covering nearly 1000 acres of floodplain habitat at the Steigerwald Lake National Wildlife Refuge, was the largest of its kind. Led by the Estuary Partnership, the enormous restoration project required the support of dozens of partners, funders, and other project advocates. To celebrate the project's completion and the reopening of the Refuge to the public, the Estuary Partnership hired artist Allie Yacina to create a commemorative poster inspired by the Refuge. 
Allie toured the Refuge in February 2022 for artistic inspiration. It was a rare windless and sunny winter Sunday that Allie walked the perimeter of the Refuge with Estuary Partnership staff, snapping reference photos of the plants, wildlife, and making notes on the colors and lighting
 
After the field trip, Allie created three preliminary draft designs. Each design went through a thorough review with Estuary Partnership ecologists and US Fish and Wildlife biologists. "The poster had to encapsulate the essence and wonder of the area through color, texture, and composition – but it also had to be scientifically accurate," said Allie. "The growth patterns of wapato and the correct placement of the adipose fin on salmon were important details."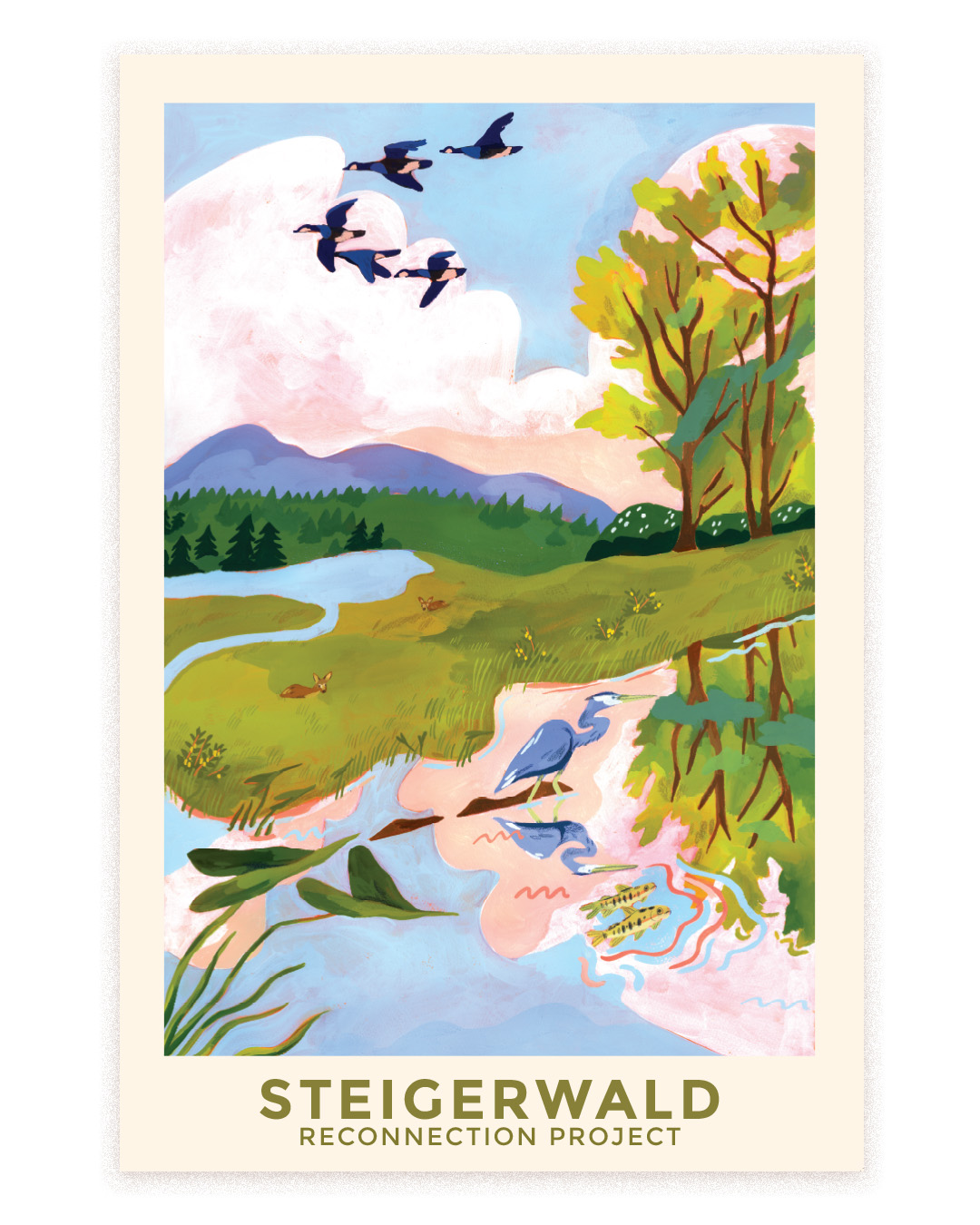 Would you like a postcard of this art? Send your mailing address to JZimmerStucky@Estuarypartnership.org and she'll mail one to you!
Thank you, U.S. Fish and Wildlife Service, for providing poster and postcard prints to distribute to the public. 
About the artist: Allie Yacina designs label artwork for a West Coast brewery as a full-time graphic designer. She is also a painter and freelance artist. Prior to making her way out west to Portland in 2016, Allie earned her BFA in Visual Communications from the University of Delaware. Her artwork has been featured in the Willamette Week and she designed the Laurelhurst Park poster for the Portland Parks Foundation. Allie's website allieyacina.com