At the Estuary Partnership, we treat every day like it's Earth Day. But this time of year is special.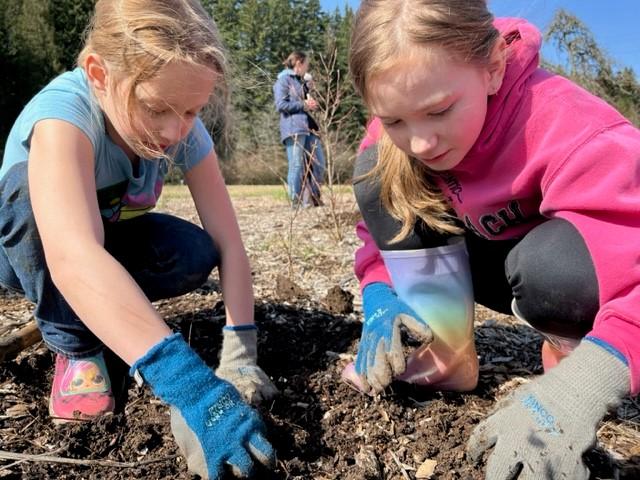 We are proud partners with Earth Day Oregon and Washington GiveBIG, AND we have three opportunities for you to volunteer with us during this month-long-plus celebration.

Year-round, our work for the river continues. We are planting trees, stewarding natural areas, researching, finding solutions to the big problems facing our watershed, and teaching kids how to take care of our lands and waters. 

It's a lot of work. But with your help, we can make it happen. You can support our valuable restoration and education work with a gift in honor of Earth Month today.

Your gift will restore habitat and provide meaningful experiences for kids and adults to learn about the Columbia River.
Our Earth Month campaign will run throughout April to May 2 and 3 for the Washington GiveBIG campaign. Everyone who donates $100 or more to the Estuary Partnership April 1 through May 3 will get a certificate for a two-hour kayak rental for two from Alder Creek Kayak and Canoe! Our goal is to raise $5,000 to support our mission throughout this campaign.
Thank you for making a gift today!

Volunteer for Earth Day
Volunteers will mulch native trees and shrubs, remove non-native plants, and perform other stewardship to help these new plants survive. Sign up for one or all three!

Thank you to our Earth Day Oregon sponsors:
Ash Creek Forest Management is a recognized industry leader and certified B-Corp, and creates innovative solutions for sustainable management of natural areas, farms and forests, backyards and bioswales. They work with clients to envision and achieve successful, low-chemical habitat restoration and naturescaping. They also provide a suite of expert professional services.
KPFF is a multi-discipline engineering firm. With their collaborative and creative team of civil and structural engineers and surveyors, they thrive on designing innovative solutions for projects of all scales. For more than 60 years, KPFF has provided creative, practical solutions for projects of all kinds and industries. 
Alder Creek Kayak and Canoe is the premiere paddle sports store and paddling school in Oregon. With one main retail location and three satellite rental locations, and a friendly and knowledgeable staff, they can supply all of your paddling needs. They have a complete online kayak, canoe, and SUP shop, and you can test paddle anything in stock at their Jantzen Beach retail store. And they have Oregon's largest paddle sports rental fleet.
volunteer