NOAA Chart

18531

River Mile

122

Restrooms

Yes

Parking Type

Multiple parking spaces with a loading zone

Parking Fee

None

Tidal influence

Slight. Does not impact launching.

Launch Fees

None
The new Washougal Waterfront Park includes a dedicated non-motorized boat launch area for easy access to the Lower Columbia River Water Trail. A concrete ramp provides easy access to a gravel beach. The site is particularly useful for non-motorized boats because if avoids conflicts motorized boaters at the Port of Camas-Washougal boat ramp and marina and because paddlers do not have to paddle through the marina to get to the river.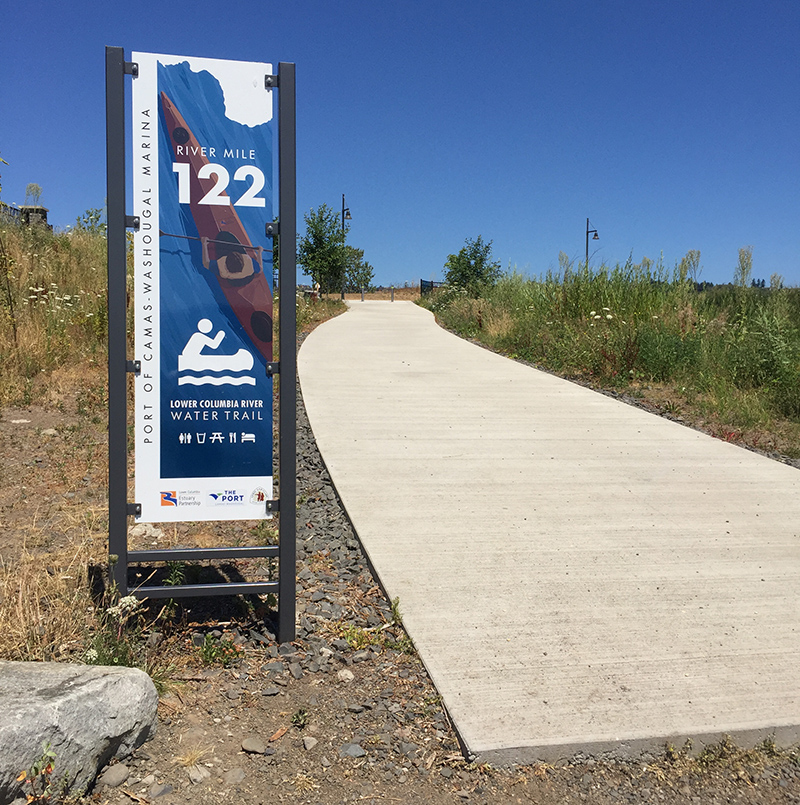 Here is information from the Port's new waterfront park website:
"The Park itself has a picnic shelter (reservations available), solar powered restrooms, designated parking lot, access to the breakwater fishing and transient moorage dock, compass view point, several benches and picnic tables. The Park showcases a magnificent view and adds fun educational additions to your visit such as interpretive signage. The Park and trail are complete with kiosk and way finding signage to link adventurers to local Downtown districts and other trail systems in the area.
"A special feature that we are very excited about is our Parks rain gardens and solar operated restrooms. There is educational signage to help teach our future generations about the impact each person may have on the environment and what they can do at home to do their part.
"The Park also features The Ports Stainless Steel Salmon that are inlaid into the cement, tying in the Ports art collaborative to the project. This was the Ports first art project meant to raise funds for more artwork while creating beauty along the trail. Artist: Malo Hasselblad
"The 12-foot wide cement trail wraps completely around the park and stretches just under a mile long. Along the trail, there is a non-motorized kayak/canoe vehicle launch, children's natural play area (coming soon), view points, interpretive signage and water access trails for those hoping to get closer to our beautiful Columbia River. Leashed pets are welcome."
Safety Notes: 
The current often moves quickly around Washougal. If traveling downriver, be prepared to move out into the river far enough, quickly enough, to avoid the downstream marina.
---