Reach:  Refuges, Reach 6 
Distance:  12 miles round-trip 
Chart:  NOAA Chart 18523, Crims Island to Harrington Point 
Skill level:  Intermediate 
By the time I catch up with Ginni, I'm winded from paddling hard.  When I stop to catch my breath, she laughs and says "see ya!"  Pulling on a cord on the deck of her kayak brings up a sail. Aided by civilization's first form of renewable energy, her kayak shoots downwind, leaving me in the dust again. On the lower Columbia's wide-open lower reaches, wind is either your friend of your enemy.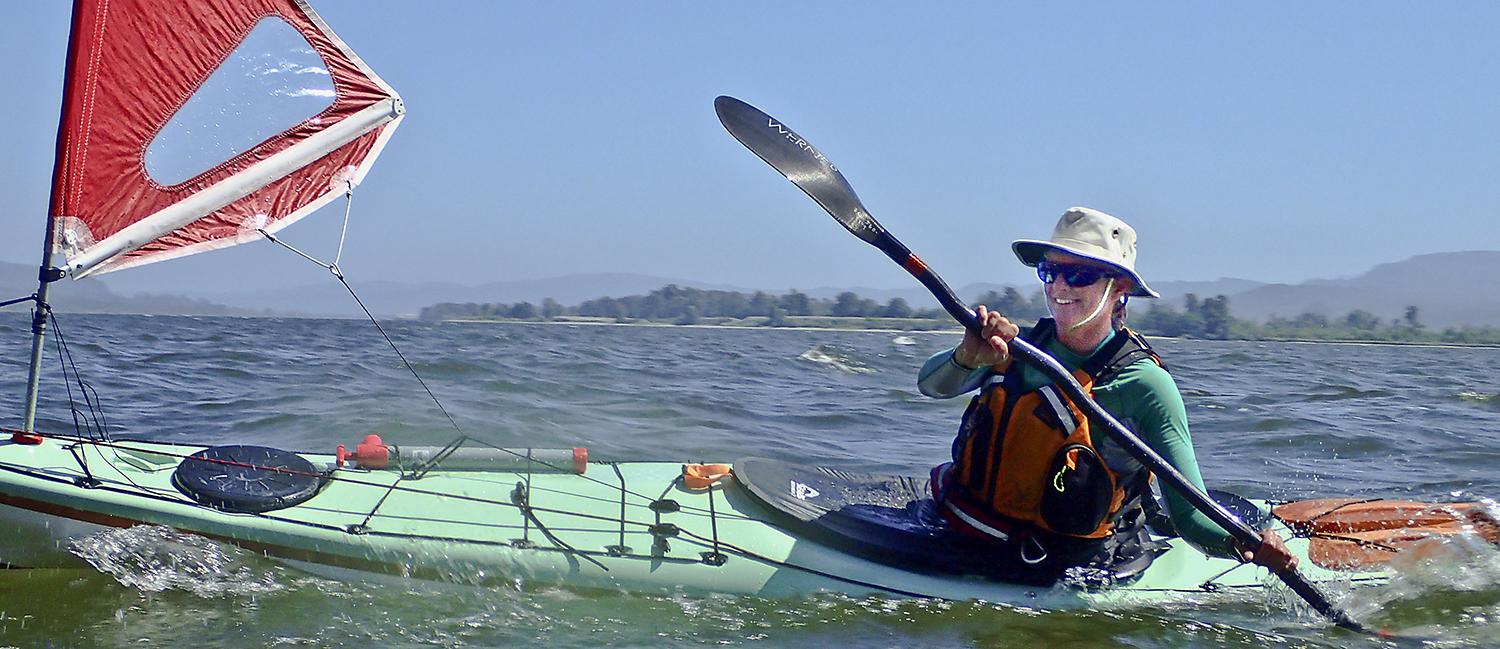 Today it is definitely our friend. In the morning, we left Skamokawa on the Washington side of the lower river for a six-mile run around Brookfield Point (formerly known as Jim Crow Point), riding an ebb current that zipped us by marshy islands, past the creviced Washington shoreline, countless osprey nests on channel markers, and a massive cormorant condominium of twenty nests built into a navigation beacon. On the lower Columbia, the real estate market rewards those who can adapt to human structures.  When we paddle up the narrow but long and twisty Harlow Creek (formerly Jim Crow Creek), we're watched by a pair of bald eagles, which still insist on nesting in an actual tree. 

Brookfield Point is a rocky, cliffy point where the Columbia transitions. On the protected east side of the cliff, a nook makes for perfect hide and seek. Round the point, and you're on vast, wide-open water that feels less like a river and more like the ocean that lies a few miles to the west. A very complex rope swing descending from the cliffs adds some kayak-based silliness. The wide, sandy beach adds to the ocean feel, and wide-open views extend to Tongue Point near Astoria, Saddle Mountain in the Oregon Coast Range, and the 4-mile long Astoria Bridge. Supposedly the Lewis & Clark expedition spent two rainy nights somewhere near here on their westward journey. With no rain, the driftwood piled up from winter storms provide a platform for a post-lunch nap, which is soon interrupted by a loud conference of Caspian terns. When it's time to return, the ebb is still running seaward. So we anticipate eddy-hopping along the shore, slowly working our way back upstream. Then the wind becomes our friend. Rising from the west, it pushes us right where we want to go.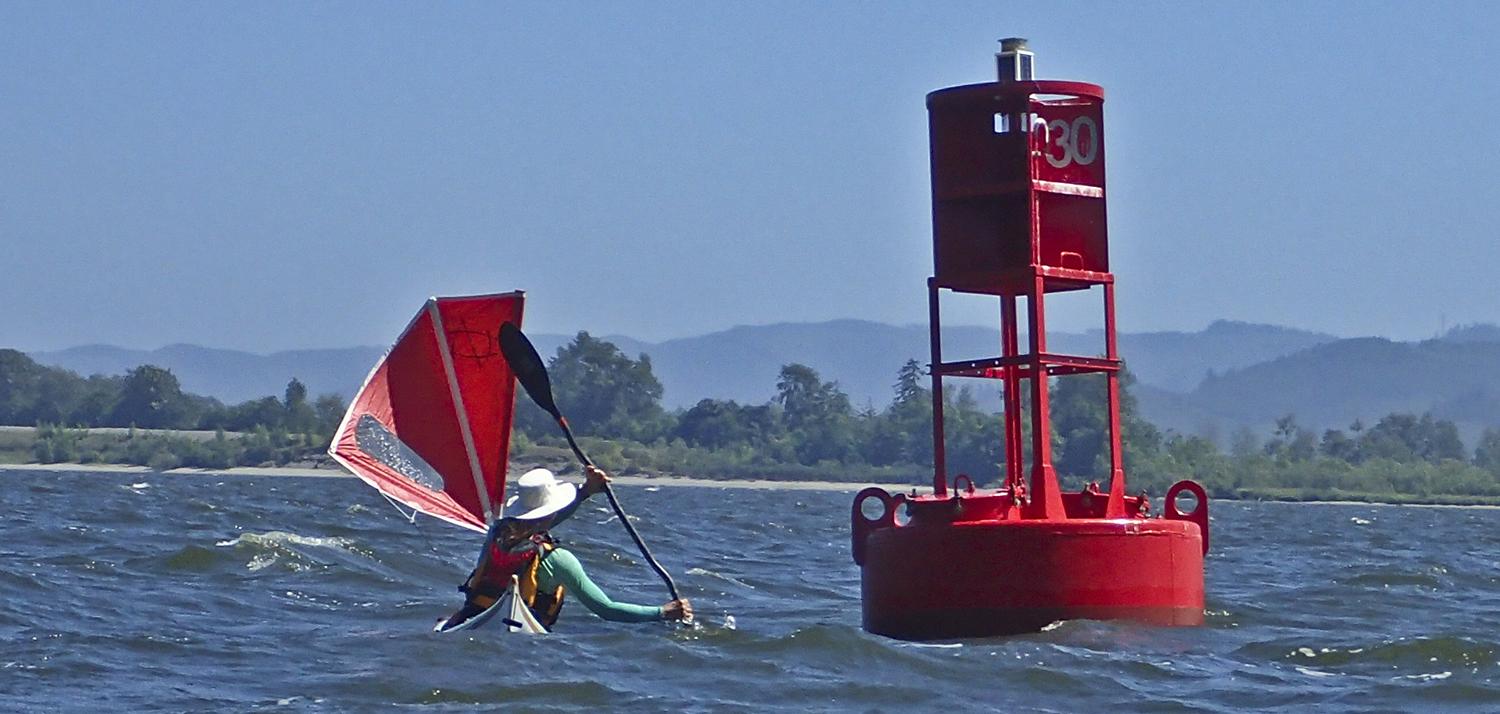 Pushed by a 15-knot westerly, we bob up and down and enjoy small surf rides that help us make easy progress upstream. Aided by her sail, Ginni easily outdistances us, and we chase after her like a gullible donkey chasing a carrot that always dangles just outside its reach. We round the corner to encounter a "slightly larger" craft: the tanker Goldeneye, heading to the Pacific. But instead of being a Bond villain, the Goldeneye's wake gives us an even bigger push back to Skamokawa. After 12 miles, 6 hours, and a lot of laughter, we're back in Skamokawa, trying to track down a pizza to replace the lost calories.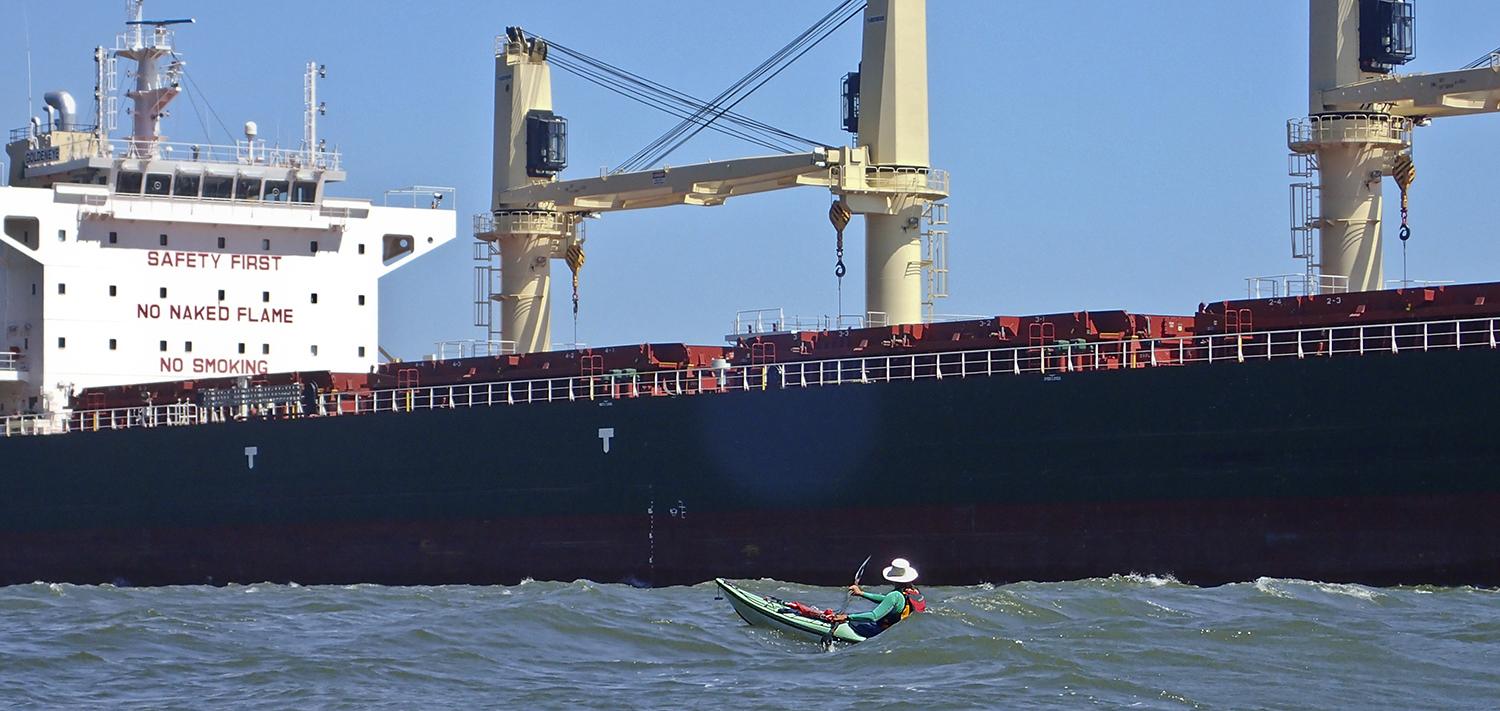 Why you should go:  Views of the wide-open lower river, big ships, wildlife, and a shoreline that varies between marshy islands, rocky cliffs, side creeks, and sandy beaches. 
If you go:  Pay attention to the current tables, wind, and watch for shipping traffic. The area right around Skamokawa is often foggy in the morning: the name comes from the Chinook name "smoke on the water." 
Launch and Land:  Vista Park, Skamokawa, WA 
Nearby: Skamokawa Paddle Center, camping at Vista Park, lodging at The Inn at Skamokawa Landing, and food at Skamokawa's Duck Inn, or in Cathlamet, WA.