Reach:  3
Launch and Land: Scappoose Bay, Ridgefield, St. Helens, or the mouth of the Lewis River.
Distance:  10 miles Around Bachelor Island from Ridgefield
7 miles round-trip to Warrior Rock from Scappoose Bay
Chart:  NOAA Chart 18525, Columbia River, St Helens to Vancouver
Skill level:  Beginner
If there's an epicenter for paddling on the Lower Columbia River Water Trail, the downstream tip of Sauvie Island is probably it.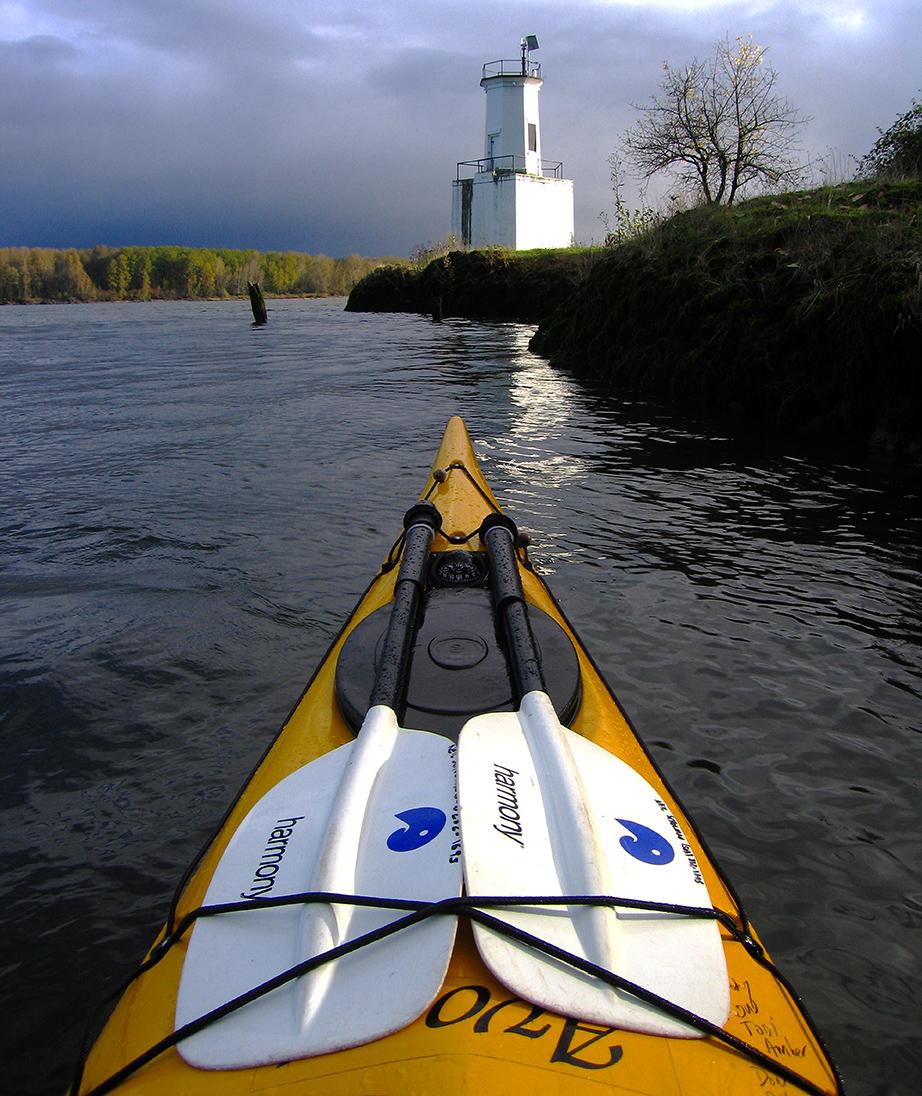 From Warrior Rock at the far northern end of Sauvie Island, paddling routes radiate in 6 directions. Here, the ribbon of the Columbia is ringed by protected water, sheltered from westerly winds, and surrounded by easy launch spots. Paddle shops offer rentals on either side of the river. The intersection of the Columbia, Bachelor Island Slough, Lake River, The Lewis River, Multnomah Channel (the lower mouth of the Willamette) Scappoose Bay, and Cunningham Slough create a varied, year-round, beginner friendly paddling destination.
Today, we're following one of the more popular routes, a seven-mile there-and-back from Scappoose Bay to Warrior Rock lighthouse. Our route will take us through the sheltered waters of Scappoose Bay, across Multnomah Channel, around the tip of Sauvie Island to the lighthouse, a detour to Sand Island, and then back to Scappoose Bay. On the chart, it's a combination of quiet bays, the big river, and a smaller one.
But first, we have to navigate a busy boat ramp. Scappoose Bay is a popular launch: and more popular with human-powered boats than motorcraft. Stand up-paddleboarders, a kayak skills class, kayak rentals, and canoeists are all cycling through the boat ramp from the nearby Next Adventure Paddle Center. Fishermen line the banks. We wait our turn, hop in, and go. After about a hundred yards, fishing humans have given way to fishing great blue herons and osprey. They're louder, more effective at catching fish, and show complete disdain for any size or number limits.
Scappoose Bay is a long bay that extends from Multnomah Channel, deep and intricate at high tide, shallow at low. As we work our way out to the mouth, the sun breaks through the hazy clouds, creating some dramatic but very short-lived sunbeams. I ask Amy to paddle into the rays and take a few photos. A few moments later the clouds are back and the dramatic light is gone.
Soon we've reached Multnomah Channel, which is really the mouth of the Willamette River where it forks at the south end of Sauvie Island in North Portland. We cross to Louse Island, which hides the entrance to Cunningham Slough, a quiet waterway that slinks deep into Sauvie Island. Today we pass it by and work our way up Sauvie Island.
This far northern stretch of the island is a study in contrasts: natural area on one side, the Boise Paper Mill, which closed down in 2012, on the other. We round the corner into the wide Columbia via an impromptu slalom course through a maze of old pilings. Then we head to our lunch destination, the Warrior Rock Lighthouse, 100 yards upstream.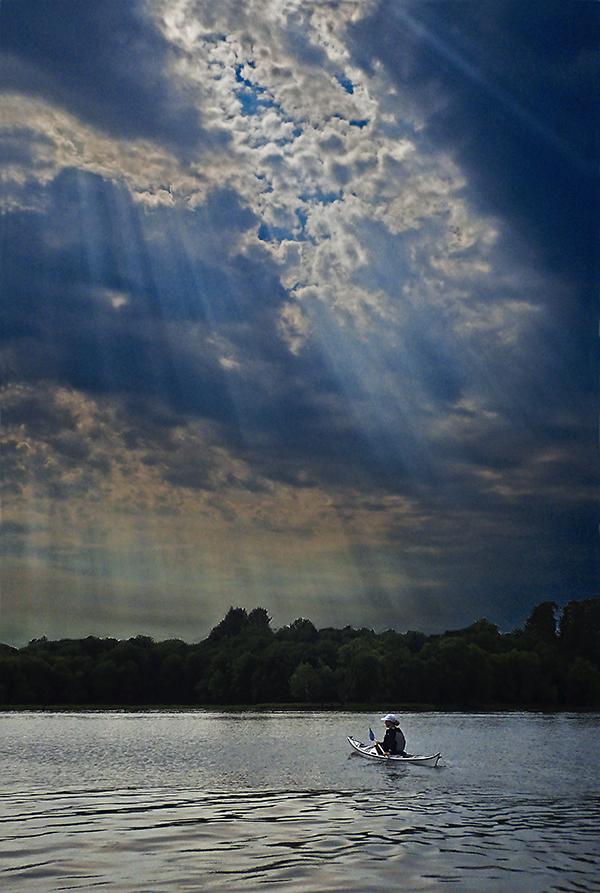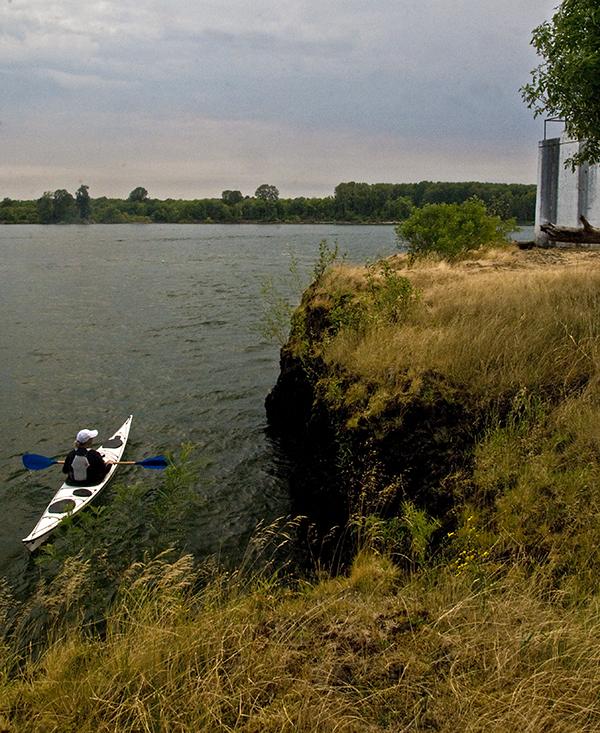 Warrior Rock juts out into the Columbia. On the top sits Oregon's smallest lighthouse. The current swirls around the rock, mild enough for some easy play: Amy practices her eddy turns in a long sea kayak, first forward, then backward, then with her eyes closed. First built in 1889, the lighthouse was rebuilt in 1969 after being destroyed by an errant barge. It marks the downstream end of Sauvie Island, which Lewis and Clark called Wapato Island.
Sitting on the rock eating lunch, we look across to Washington where two rivers, Lake and the Lewis, flow into the Columbia a scant hundred yards apart. The first leads back to Ridgefield, and if you keep going, to Vancouver Lake. The second originates high on Mount St. Helens, turning from an adrenaline-filled class 4-5 whitewater run, to a series of reservoirs, to a moving river perfect for canoes, and finally to a languid meander through the valley floor. Between the two river mouths is a third entrance: tiny, barely noticeable Gee Creek, only passable at high water. But when the water is high, Gee Creek will take a paddler a long ways through densely wooded passages.
The other popular route to Warrior Rock starts in Ridgefield and makes a 10-mile loop around Bachelor Island, through the wildlife refuge with protected water and bird life. Paddlers then enter the Columbia, sometimes crossing over to the lighthouse for lunch before venturing back across from the shipping channel to Lake River. As for us, after lunch we hop back in our boats and paddle downstream to Sand Island, across from the town of St. Helens. On our way, the sun comes out again and Amy takes a moment to practice her rolls, with and without a paddle. Then we pull ashore. On a piling is an osprey nest for the late bloomers. Most osprey have fledged by now, but this nest has four enormous, gangly looking chicks, adult size, standing around on the nest yelling up a storm. Their parents are flying nearby, no doubt wishing the kids would head off to college or find jobs and get out of the house already. One curious chick stares down at us with big yellow eyes as we paddle by
Sand Island—one of the many "Sand Islands" on the Water Trail—sports a free campground. The south side of the island has a boat moorage, but kayaks can easily land on either side. Two kayaks are pulled up on the sand, their owners nowhere in sight. Sand Island is big enough to absorb crowds even on most summer weekends, and the western end of the campground offers a great sunset view.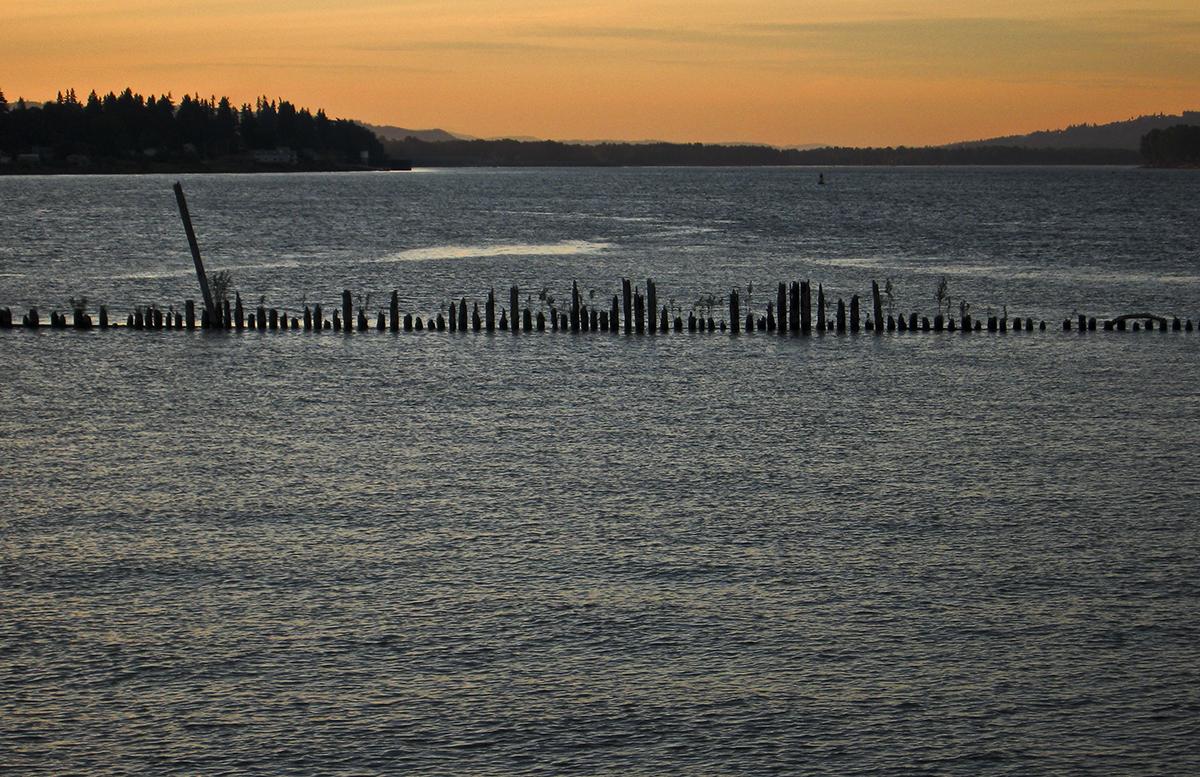 But for us, it's time to head home. We work our way back upcurrent along the Oregon shore, up Multnomah Channel beneath the industrial remains of the paper plant, and back into Scappoose Bay. Then it's off to Scappoose in search of Mexican food.
Why you should go: Year-round, beginner friendly paddling options with a nearly endless variety of routes, including an established campground.
If you go: Keep an eye out for ship traffic if you cross the Columbia's shipping channel. One-way paddles down the Lewis River to the Columbia can involve some current in the upper stretches.
Distance: 10 miles round trip around Bachelor Island from Ridgefield
                7 miles roundtrip from Scappoose Bay to Warrior Rock
Nearby: Alder Creek Kayak & Canoe in Ridgefield, Next Adventure's Scappoose Bay Paddling Center, Sand Island camping, and food options in Ridgefield, St. Helens, or Scappoose.