Reach:  Refuges
Launch and Land: Aldrich Point or Knappa. Blind Slough is most quickly accessed by the informally-named Autio Boat Launch, privately owned but open to public use.
Distance:  14 miles from Aldrich Point to Pillar Rock and back
Chart:  NOAA Chart 18523, Columbia River, Harrington Point to Crims Island
Skill level:  Beginner to Intermediate, but navigation is challenging
"Where's Tom?" Karen asks. "Does he know we went in here?"
After I sing to her a bit, "Don't wait for Tom, Tom's long gone, he's already moved on," Karen paddles back out of the maze of grassy channels to look for him. But then we see the yellow bow of his kayak poking around the corner. He's found us, somewhere deep in the center of Tronson Island.
I'd led the group to explore a passage into the grassy center of the island, about five feet wide. Like many passages in the islands of the lower Columbia River's wildlife refuges, this one is an innocuous, grassy passage that goes surprisingly deep into the island's marshy interior, twisting through the sedges, rushes, invasive reed canarygrass, and even more invasive purple loosestrife. The passage forks a few times, and when we think it peters out it keeps going, just a boat length wide. Amidst the grass, marsh wrens and sparrows buzz and chirp at us, and a few thousand bugs decide to hitch a ride on our kayaks. Eventually we do run out of water and begin the slow process of backing up and turning our 16-foot long kayaks in the tight channels. Then we return to the wider waters of Clifton Channel, and continue our journey through the island maze.
Maze is the operative word. The islands of Lewis and Clark Wildlife Refuge are spread along a large section of the lower river east of Astoria. There are virtually no navigation markers, few natural landmarks, and a lot of twisting channels through grassy islands. To make it even more complex, as the tide rises and falls, channels appear and dry out, and islands look different. It's not just a maze: it's a changing maze. If you added a few secret agent-eating sharks and a hollowed out volcano (Mt. St. Helens would do in a pinch) you could have the basic elements of a Bond villain's lair. Fortunately the marsh wrens are friendlier.
We'd launched at Aldrich Point—a distinctive ridge that's easy to spot from the Columbia. Once you leave Aldrich Point, lunch spots are at a premium. After extricating us from the grassy channels and passing some old floating cabins grandfathered in to the Refuge when it was created in 1972, we paddle 10 minutes across the Columbia to the sandy beach and small cave at Brookfield Point (formerly known as Jim Crow Point) for lunch. Along the way, while we wait for some cross-traffic, the Empire State, a big ocean-bound tanker, gives us a bit of a wake to surf.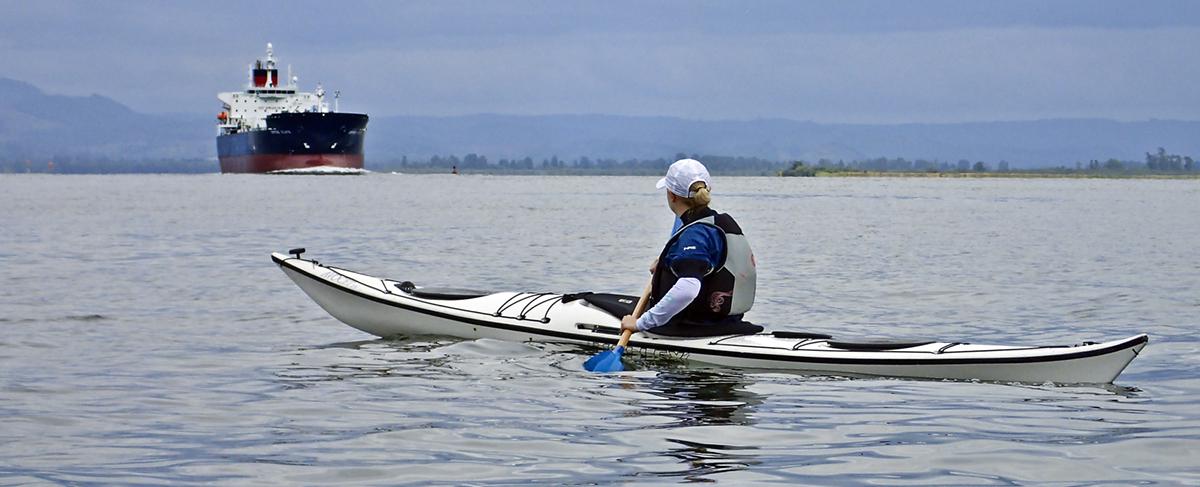 After lunch, we paddle back across the river, setting an angle to bring us to Pillar Rock, which is what the name implies—a pillar of basalt in the middle of the river. It used to be larger than it is now: the top third of it was blown off to make room for a navigation beacon that now sits on top. In the swirling currents of the Columbia River, the eddy behind it makes for a fun play spot, and Karen practices her back-ferries across the swirling water.
More than just a pinnacle of rock, Pillar Rock captures three phases of the Columbia River's past. On the Washington shore, the massive building of the Pillar Rock Cannery still stands, built in 1877, when salmon canning was a thriving industry on the lower river. The cannery itself was built on the site of a Hudson's Bay Company fish salting site, before aluminum canning, harkening back to the river's role in the fur trade.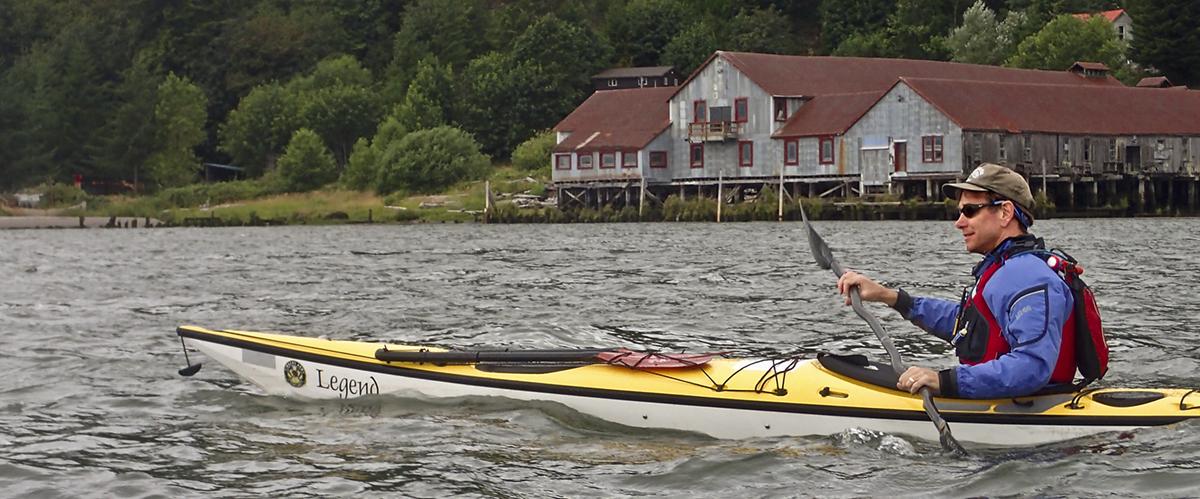 And before the saltery, the Lewis & Clark expedition camped here twice. The first time, November 7, 1805, was when they famously—and mistakenly—declared "Great joy in camp we are in View of the Ocian, this great Pacific Octean which we been So long anxious to See." The Pacific is another 25 minutes west, but here Columbia becomes a vast wide estuary, and without the calming effects of the Columbia jetties, it may have looked much like the Pacific. The Corps of Discovery camped here again in 1806 on their return journey upriver.
Lewis and Clark were headed west, but we're heading south again. We make a hook around the western end of Pillar Rock Island, where we're treated to a flyover by a squadron of white pelicans, a species normally associated with high desert waterways like the Klamath Basin, but that are becoming more common on the lower Columbia. Then we point our kayaks toward a tall tree on Horseshoe Island, about a mile and a half away, and start paddling.
Before too long, we realize that something's not quite right. According our tide and current tables, we should still have an hour of flood current to give us a push. But the tree is seems very reluctant to get closer, and we're on a treadmill going the other direction. The ebb has already begun—on the lower river, the complexities of tide, river, current, and upstream dam releases don't always match the tables, and reality trumps predictions. As we grunt across Woody Island Channel, the water begins to disappear out from under us, dodging sandbars, and seeking slow water. After a long slog, we round the corner between Horseshoe and Woody Islands, where someone has posted a Portland "2-hour parking" sign on the end of the jetty. Working our way back through the winding channels, already looking very different on a dropping tide, we pull ashore at the beach back at Aldrich Point.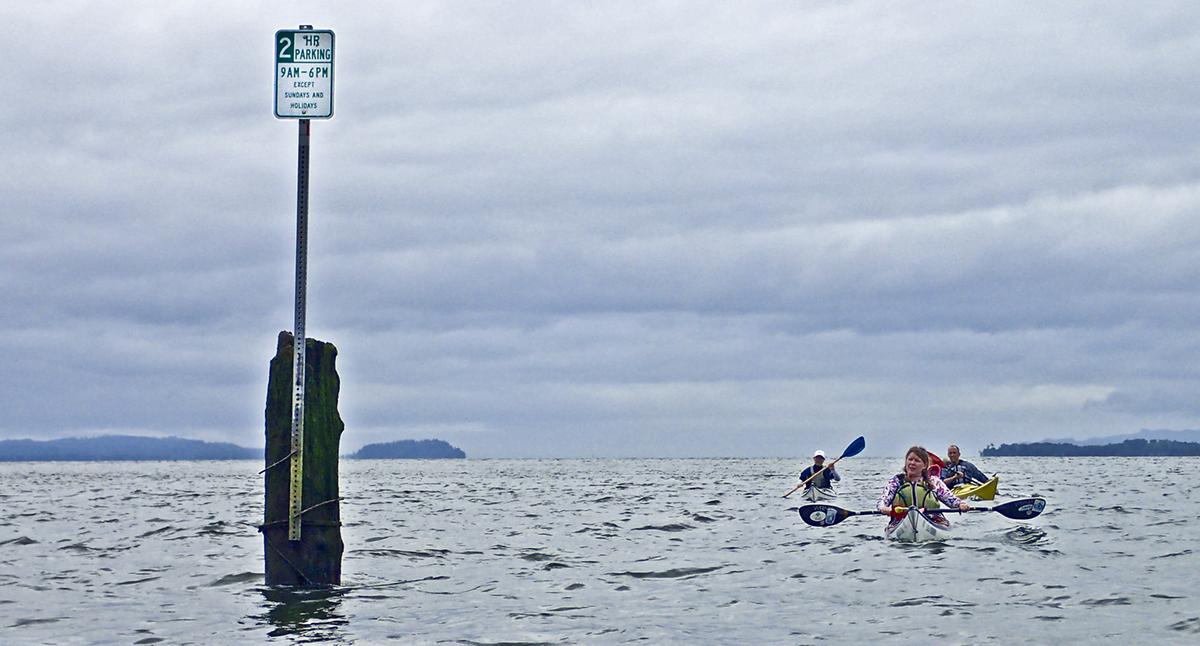 Why you should go:  A vast maze of uninhabited islands that change with the tide, and lots of wildlife. Plenty of long and short routes of various lengths.
If you go: Keep an eye on the chart, the currents, and the tide. Navigation is difficult in the island maze—that's why it's called a maze. If you cross the Columbia to Pillar Rock or Brookfield Point, watch the weather and keep an eye out for shipping traffic. Blind Slough, a Nature Conservancy Preserve, is well worth exploring, but is closed in July and August to protect nesting bald eagles.
Distance: 14 miles from Aldrich Point to Pillar Rock and back, 6 miles from Aldrich Point to Pillar Rock, and 7 miles from Aldrich Point to Knappa. But don't take this mileage too seriously: this area should be explored slowly and not in a straight line.