Reach:           4 (St. Helens to Kalama)
Distance:      12 miles
Chart:            NOAA Chart 18524, Columbia River Crims Island to St. Helens
Skill level:      Beginner
Launch and Land: From the Oregon side, launch at Pixie Beach in Columbia City, and take out in Goble. In Washington, launch at the Ridgefield Kayak Launch on Lake River and take out in Kalama. Launching in Ridgefield extends the paddle by a few miles.
"I don't think your kayak is designed for that," Al comments as he helps Don strap a car tire and big bag of trash on his kayak. While the rest of us were eating lunch, Don conducted his own ad-hoc beach cleanup. We're now strapping the tire and full trash bag onto his deck behind the cockpit, which will make his kayak ponderous and top-heavy, with another 5 miles or so to go. But Don's an experienced paddler, the river is calm, and his kayak is a wide, stable craft. So we applaud his environmental stewardship.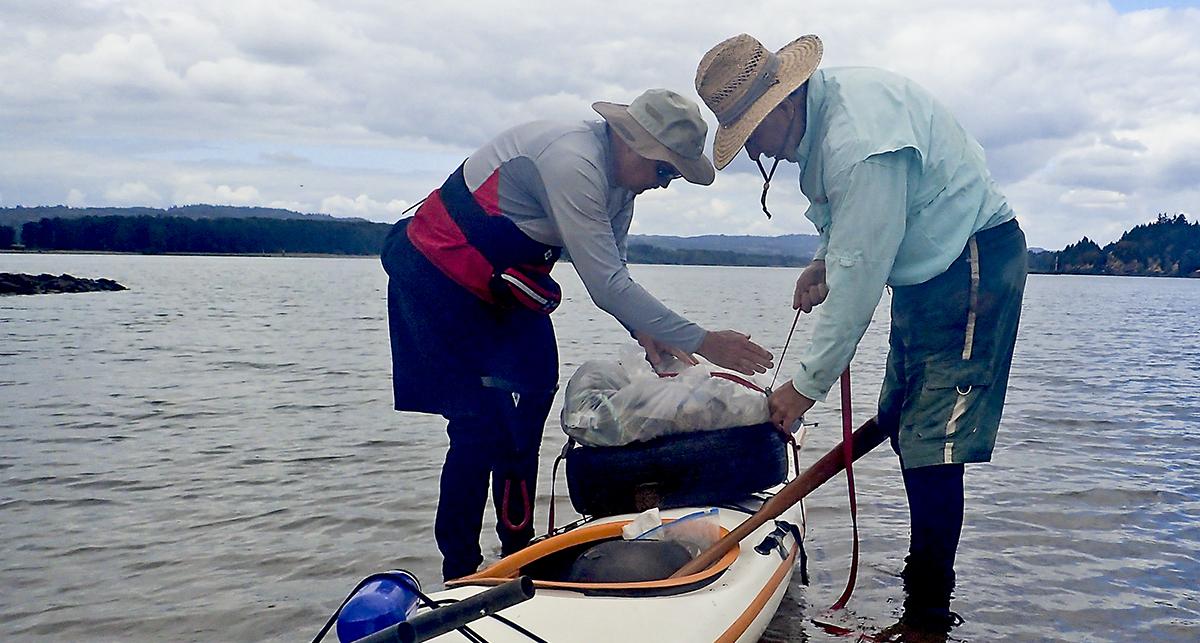 The beach Don cleaned is on the downstream tip of Martin Island on the Washington side between Columbia City and the tiny town of Goble. It's a stretch of the Lower Columbia River Water Trail that's not often paddled. Most paddlers either flock to the stretch just upstream, near Warrior Point, or head further north and west to the string of islands below Longview. But this stretch has some surprisingly interesting paddling.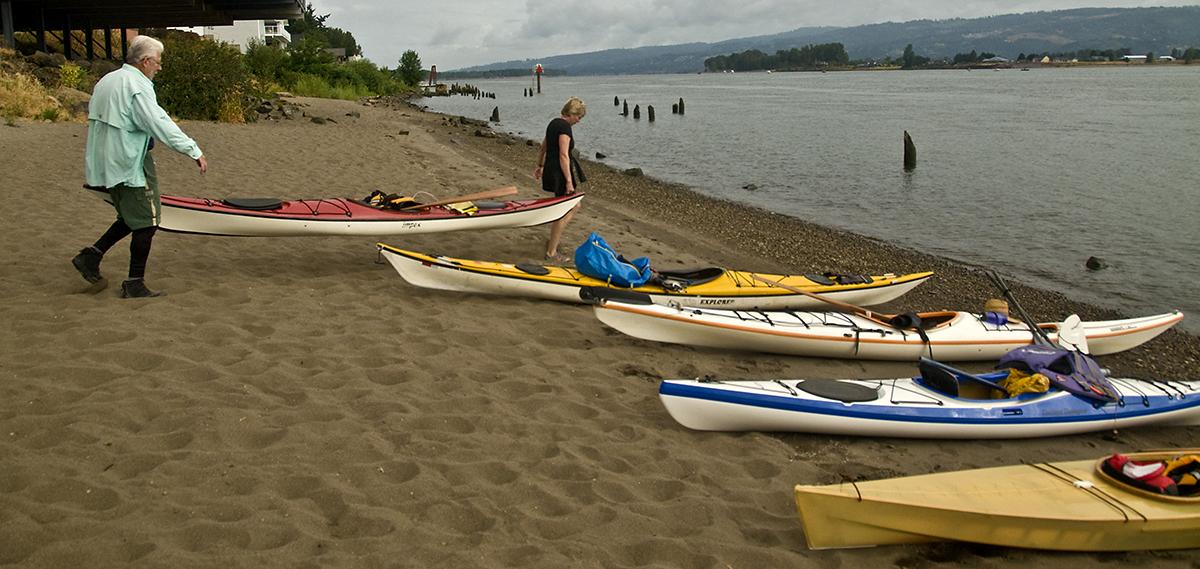 From the beach at Columbia City, we shuttle cars to Goble while the rest of us carry boats down to the beach. Our route, which runs up the Oregon side of the river for four miles to Goat Island, is a mix of forested shorelines and the big strings of pilings that provide vantage points for osprey. The paddle is uneventful: in a summer that's been defined by lots of heat and wind, today is calm and warm with no wind forecast at all. When we come to the tip of Goat Island, we look both ways before crossing the shipping channel to Martin Island. We steer our way through the wing dams where the current accelerates. Novice paddlers should give wing dams a wide berth, especially during high water, but our group has enough experience to use them for maneuvering practice. The navigation markers at the end of wing dams each have a platform for osprey nests: the birds have adapted well to nesting on man-made structures, so the Corps of Engineers has made special platforms so their nests don't block the navigation lights. It's partially successful at best: several nests are piled right next to the light, which provides some warmth. Then it's a stop for lunch on the beach on Martin Island, where Don stages his impromptu cleanup while the rest of us pick blackberries. At least we can claim that we're deriving some minor benefit from a pesky invasive species.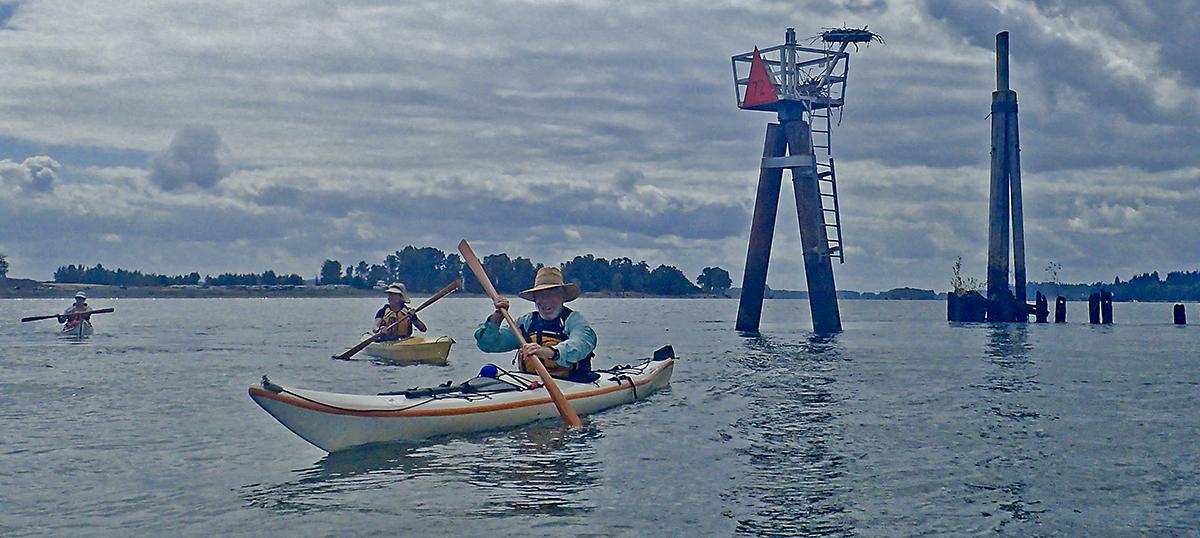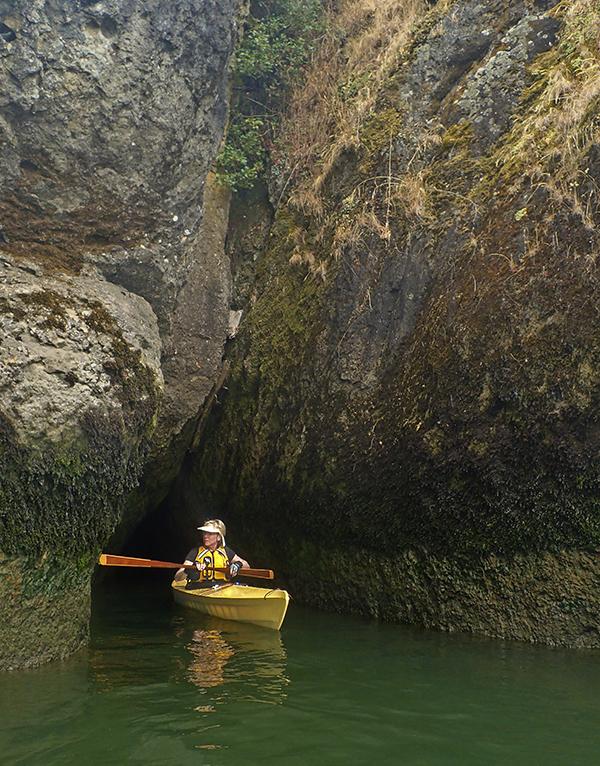 Beyond Martin Island is a small set of cliffs that are only visible from the river—travelers along nearby I-5 won't know they're there unless they've spent time on the water. On this calm day we explore the nooks and crannies slowly, even Don, whose heavily loaded kayak is slow to make the continuous turns following the rocks.
The next stop is the port of Kalama, where an enormous container ship—even by container ship standards—dwarfs our paddling group. It's the KM Yokohama, incongruously flagged in Panama.
Any observant paddler on the Columbia quickly notices that most big ships are flagged in Panama or Liberia. Under international law, every merchant ship must be registered in a country which applies its standards for safety inspections and working conditions. Panama and Liberia operate "open registries" where foreign ship owners can register their ships (for a fee) and pay no income taxes. Not surprisingly, shipping companies the world over take advantage of this loophole. More vessels are registered in Panama than the US, Great Britain, and China combined.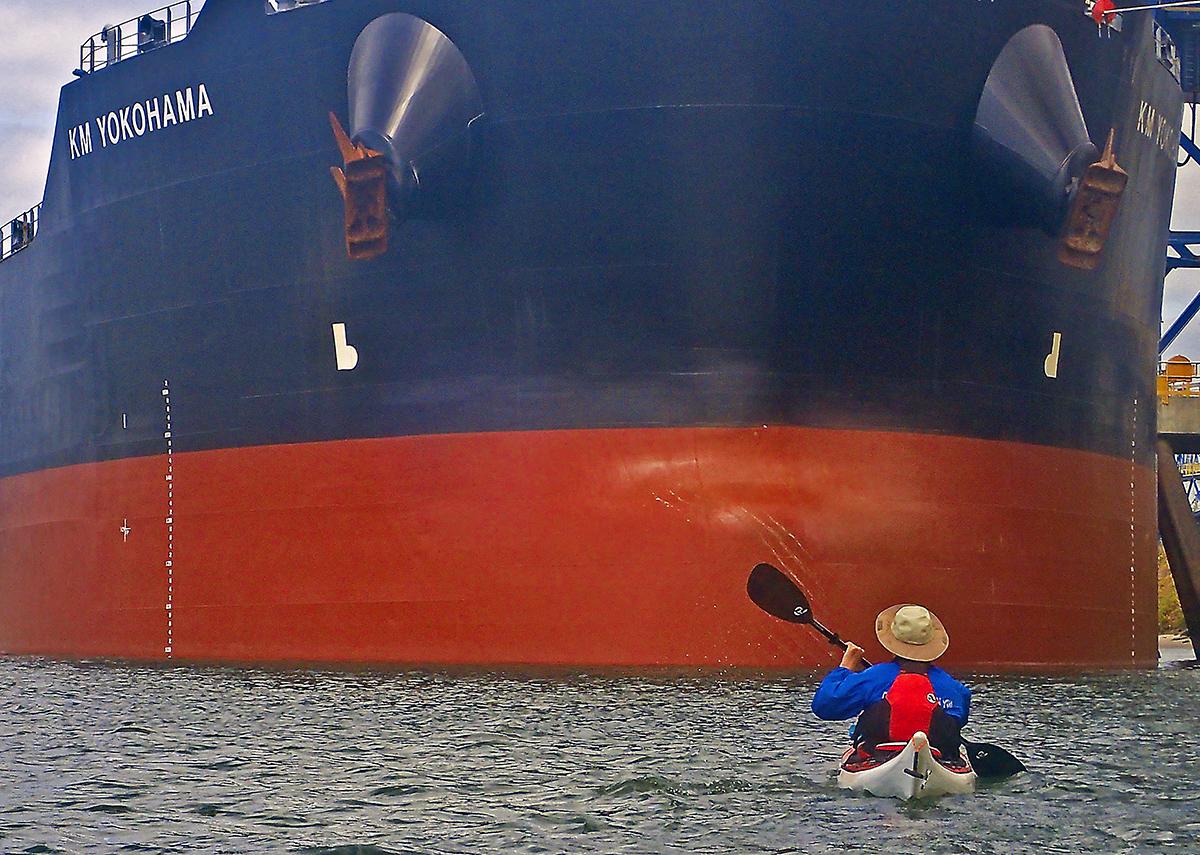 I maneuver my 17-foot long, 21-inch wide KM Explorer kayak, flagged in the US, along the Yokohama's massive hull. Then we cross back to the Oregon side of the river. We duck behind Sandy Island (one of many on the Columbia named Sand or Sandy Island) where we follow a narrow channel toward Goble. We spot elk and deer wandering the Sandy Island shore.
Before Goble, we come across a dock teeming with what can only be described as rusting hulks. Some of them, like the Polar Star, are derelict fishing boats. Others are long-neglected sailboats. At the center lies a giant decaying sternwheeler, complete with broken windows. It's supposedly haunted. The stern tells us, in seven-foot high spray paint, about all the bad things that will happen to us if we trespass: they involve prosecution, not poltergeists. We stay in our kayaks. Then it's over the Goble boat ramp, where we have a shuttle to run, some blackberries to eat, and some garbage to help Don throw away.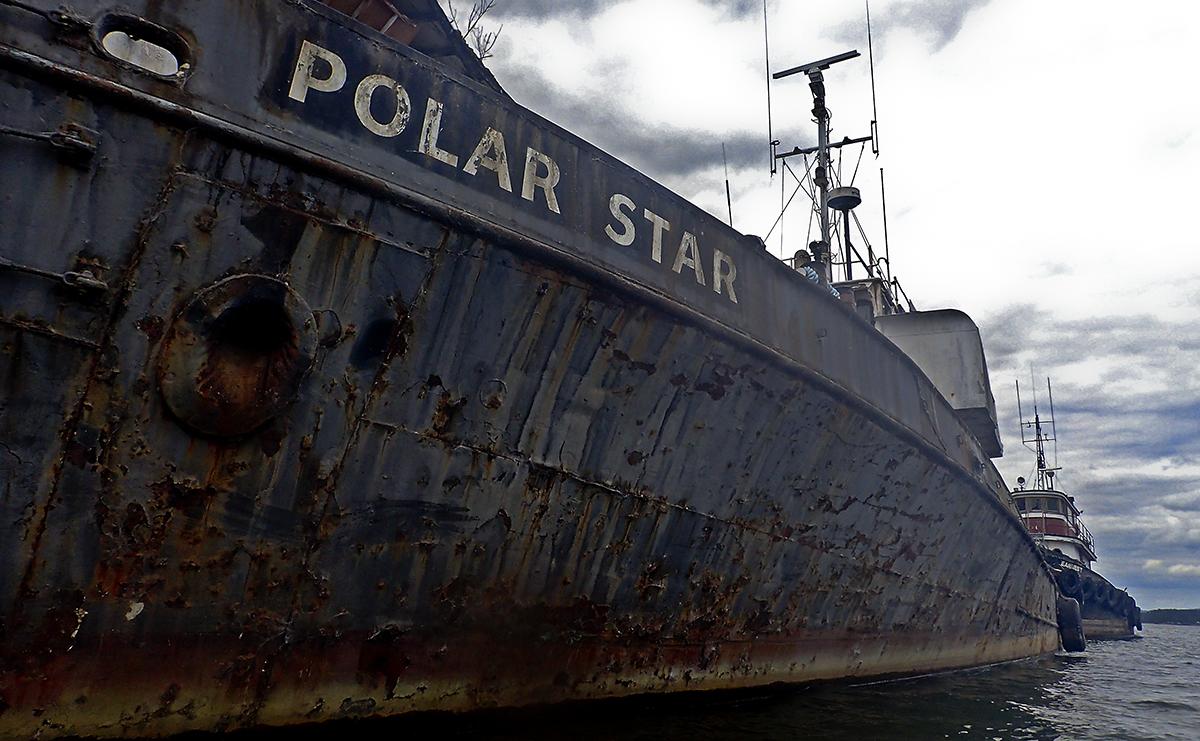 Other Options: From the Washington side, the same paddle can be run from Ridgefield WA, to the Kalama Boat Ramp.
Why you should go: A friendly one-way paddle with current assist, and an interesting set of cliffs. And the beach on Martin Island is now nice and clean.
If you go: Keep a lookout while crossing the shipping channel. Novice paddlers should avoid getting upstream of wing dams until they become familiar with handling their kayaks in current.