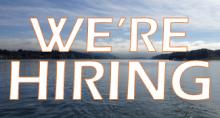 Work with us! The Estuary Partnership is currently recruiting for an Executive Assistant to join our team. The successful candidate will become a vital member of our Management Team, and will work to support the Executive Director and, directly and indirectly, all our programs to restore and engage people with the river.
Find the full job description here. Only online applications will be accepted. You can apply online here. Applications are due Wednesday, June 12.
More information can also be found on the flyer below, or you can download the flyer pdf.