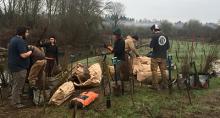 Request for Qualifications
The Lower Columbia Estuary Partnership is soliciting statements of qualifications from firms interested in providing "on-call" natural area vegetation management assistance to the Estuary Partnership's Habitat Restoration Program. The Estuary Partnership anticipates selecting several firms that can provide vegetation management skills to the Estuary Partnership for a range of restoration project types and sizes. This work may include implementing vegetation management services for complex, large-scale habitat restoration projects.
The Request for Qualifications is available for download here.
Questions submitted by the deadline are addressed in this document: Response Addendum
The deadline for submitting Statements of Qualifications is 4:00 PM December 13, 2019.
SCHEDULE
RFQ Issuance: November 13, 2019
RFQ Question Period Closing: November 27, 2019 at 4:00 PM
RFQ Addendum Responses (if any) Posting: December 4, 2019
RFQ Closing: December 13, 2019 at 4:00 PM
Notice of Award: December 31, 2019