Every year on the first Saturday of June, the City of Ridgefield throws a great big party to celebrate their connection to local rivers. The Ridgefield Big Paddle is our #9 reason to Love the Lower Columbia.

The Ridgefield Big Paddle is celebrating its 10th anniversary this year! Since 2012, Ridgefield holds a big party on the Lake River waterfront on National Trails Day. The festival celebrates the city's connection to the river and the Lewis River-Vancouver Lake Water Trail. The festival includes food; music; opportunities to learn about Indigenous history, watershed science, wildlife and ways to protect water quality, and of course, paddling. 

Most years, the Big Paddle includes a giant flotilla (like 2019 Big Paddle above) that includes dozens and dozens of kayaks, canoes, and other paddlecraft, with a 5-mile group paddle from Lake River to its confluence with the Columbia River, then back to the Port of Ridgefield launch.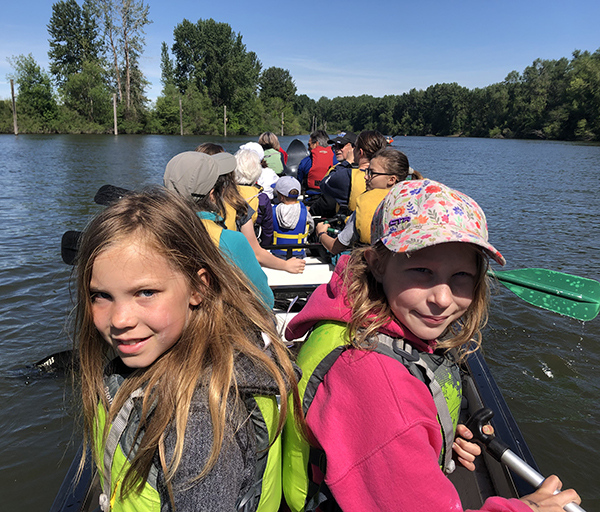 As with many events, this year's Big Paddle looks a little different. Saturday June 5, Ridgefield is hosting a paddle and picnic on the waterfront, but big group paddles that happen most years are out. Instead, organizers are encouraging folks to find their own 5-mile paddle on the Water Trail. There will be flyers for self-guided tours, or paddlers can just float and paddle leisurely with their friends and family. Those who don't own their own boats can rent from Alder Creek Kayak & Canoe. Alder Creek is also hosting two small guided paddles you can sign up for: a water trail wildlife tour at 9:30am and a recreational guided paddle at 1pm (register in advance, space is limited). 
Participants are also encouraged to picnic on the waterfront with takeout from a local restaurant, or visit the Farmers Market open 9am-2pm in nearby Overlook Park. For those who like a challenge, they have a 100 Miles in 100 Days challenge that kicks off the day of the Big Paddle. 
Typically, the Estuary Partnership's two Big Canoes are out offering group paddles to people. Due to COVID-19 the 2021 Big Paddle is not offering group trips, but we can't wait to come back next year!
Find out all about the Big Paddle and how to participate this year, on their webpage.