There is a spot managed by Columbia Land Trust specifically for sandhill cranes.
With their tall stature, prominent red crown patch, unique calls and extravagant dance moves, sandhill cranes are a magnificent sight. On the lower Columbia River within the Vancouver Lowlands, Columbia Land Trust manages a 527-acre property that is conserved specifically for these birds and attracts them in high numbers during the fall through spring months.  
In 2016, the Port of Vancouver donated several parcels in the Vancouver Lowlands for this iconic species to spend eight months of the year (September - April) foraging and resting. Columbia Land Trust actively manages the site by planting alfalfa, grasses, spring wheat, and corn for the birds to use as winter foraging grounds before their spring migration to nesting grounds in Alaska and northern British Columbia. A local dairy farmer also benefits—they harvest the alfalfa and utilize the grain from harvested wheat fields to supplement their cows' diet. That, in turn, provides secure, large landing, foraging and staging areas for the winter flocks of cranes. Berms around the site help block some of the nearby industrial activity, a busy state highway, and a public multi-use trail.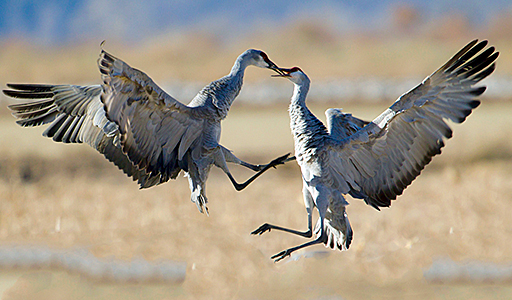 It's a unique effort to provide for these birds. Their favored wetland and prairie habitat has been wiped out by development, yet they have adapted to using farm fields as feeding grounds to probe for invertebrates, buried tubers, and glean waste grains from recently harvested field. Or, in the situation at the Trust property, forage for corn right off the stalk!  Most farm fields, of course, aren't planted with sandhill cranes in mind. This spot on the lower Columbia River is one of the few remaining fall and winter staging area within the Vancouver Lowlands for this small population of sandhill cranes on the Pacific Flyway, and also attracts many other species of waterfowl. 
The site also lies adjacent to Ridgefield National Wildlife Refuge, Shillapoo Wildlife Area, and just across the river from Oregon's Sauvie Island Wildlife Area, making it an important piece of a larger area conserved for the benefit of wildlife.