Before summer 2021 wraps up—though we may all be ready for fall rains—we want to celebrate a few of the amazing beaches that line the lower Columbia. Beaches are our #12 Reason to Love the Lower Columbia. Below are six of our favorites.
Many of these beaches are ideal swimming spots, but be sure to exercise caution, because river conditions can change rapidly. With river levels low this year, also check for any discolored or scummy areas before entering the water or letting your children or pets enter. You can check the Swim Guide to see if local volunteers are monitoring the water at your beach for E. coli. 
Frenchman's Bar Regional Park
Frenchman's Bar (map) is a 120-acre park west of Vancouver Lake. The park has a long stretch of sandy beach with beach volleyball, picnic tables, barbecue grills and more. Ship watching is a fun activity here, as there are often ships waiting to dock at the nearby Port of Vancouver. Ample paid parking, or free if you ride your bike or walk there. More info at Clark County Parks.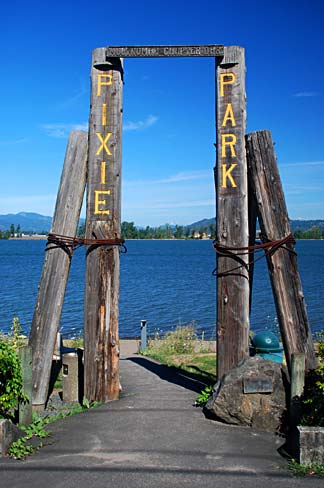 Pixie Park
Pixie Park (map) is a small pocket beach nestled into a historic neighborhood in Columbia City. The park is named for a boat owned by Columbia City resident Harvey Jordan, though at 0.31-acres, you'd be forgiven believing it was named for its diminutive size. There is a short sidewalk that leads to a small gravel beach where you can launch a canoe or kayak. 
Ahles Point Beach
Ahles Point Beach (map) is a sandy beach along the Kalama waterfront walk, just upstream from the Port of Kalama Marine Park. There are beach volleyball courts, horseshoes, picnic areas, and the adjacent multi-use path. Windsurfing and fishing are also popular here. And now, visitors can stop for a pint or snack at the Ahles Point Cabin, an outpost of the new McMenamins Kalama Harbor Lodge property.
Willow Grove
Willow Grove Park (map) is a 75-acre public park in Longview. The park is owned by the Port of Longview, which has made several improvements over the past several years. The park has a sandy beach, boat launch, playground, paved walking paths, and lots of free parking. They also have a life jacket loaner program, to keep young swimmers safe!
 
Crims Island
For those who crave even more solitude, there are many islands throughout the lower Columbia that are only accessible by boat. One of those that is just downstream from Willow Grove is Crims Island (map), across Bradbury Slough from Oregon. The island is remote and has lots of beach to explore. In 2004-2005, a habitat restoration project restored intertidal channels and recreated 85 acres of emergent marsh in the island's inland areas. Leave-no-trace camping is also allowed on part of the island. The closest launch point is Mayger ODFW Day Access Beach.
Skamokawa Vista Park
Vista Park in Skamokawa (map) is 75-acres that is open for day use and overnight camping. The park has a big sandy beach, tent and RV camping, yurts, boat launch, tennis courts, and lots of recreation opportunities. Vista park is a popular paddling spot with access to a various paddling experiences, from calm back water areas inside Brooks and Steamboat Slough to the larger waters of the mainstem Columbia River. You can even rent a kayak nearby from our friends at Columbia River Kayaking. It's also a great location for ship watching. Just know that this area is exposed and can get very windy. Find out more at the Wahkiakum Port District #2.