Stormwater is the number one source of water pollution across the country. When rain falls on impervious surfaces, it picks up all sorts of sediment, oils and toxic compounds from automobiles, pesticides and herbicides, pet waste, and other contaminants.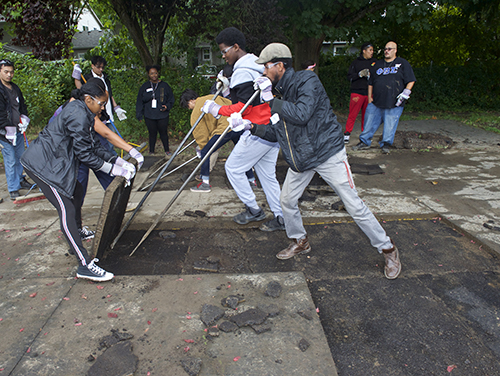 To lessen the impacts of stormwater runoff, many communities and nonprofits are implementing stormwater retrofit projects - redirecting stormwater runoff from drains and pipes to infiltration areas, swales, and other permeable surfaces. One Portland-area nonprofit Depave is one of the OGs of the movement to green urban areas by removing asphalt and concrete surfaces and replacing them with community gardens, stormwater swales, play areas, and more. Since 2008, the group has depaved more than 309,000 square feet - seven acres - at 67 sites across the Portland metropolitan area. And the concept has spread to the Puget Sound, Ohio, Tennessee, Canada and the UK! 
For more than 15 years, the Estuary Partnership has worked with a number of schools and businesses to infiltrate and treat stormwater, sometimes alongside Depave and their volunteers. Most recently working with Depave, we depaved and created stormwater infiltration at two North Portland schools: a portion of the Sitton School schoolyard and a large area of asphalt at Boise-Eliot/Humbolt School. And with the assistance of Verde Builds, we replaced a portion of the ClackaCraft Drift Boats parking lot in Clackamas County with a stormwater infiltration garden. And we are working with the City and Port of Ilwaco to add stormwater features to Howerton Avenue. Stay tuned for more updates on that project! 
There are a lot more efforts throughout the region, too.  
The City of Vancouver has strong messaging around individual watersheds to inform people about their home watershed, and that stormwater drains directly to streams. They have been working to restore riparian areas alongside waterways like Burnt Bridge and Salmon creeks for years. 
As the largest urban area in the region, Portland has its work cut out for it in reducing the impacts of stormwater, but has been a leader both regionally and nationally for its stormwater management and its work to reduce stormwater runoff through retrofit projects and new development standards. As a big part of that strategy, the City's Big Pipe Project reduced combined sewer overflows to the Columbia Slough and the Willamette River 94% and 99% respectively - from an average of 50 in 1991 to around one today. This has been a huge boost to Willamette River water quality, and the river is now typically safe enough to swim in. 
Our states also have strong requirements for new and redevelopment to treat stormwater on-site when possible. Clackamas County has a grant program for improving watershed health that has funded stormwater retrofits at businesses like ClackaCraft and Dave's Killer Bread. Every year the Washington Department of Ecology gives grants and loans to local communities to improve their stormwater. 
Ports have a direct connection to the river that makes them uniquely poised to make a huge difference to the river's water quality. The Port of Vancouver uses several systems to manage their stormwater, including bio-filtration systems, stormwater detention ponds with floating wetlands to treat the water, and an innovative, inexpensive GRATTIX box to infiltrate runoff from corrugated metal roofing. The Estuary Partnership is currently working on a project to build and distribute GRATTIX boxes to industrial businesses along the lower river.