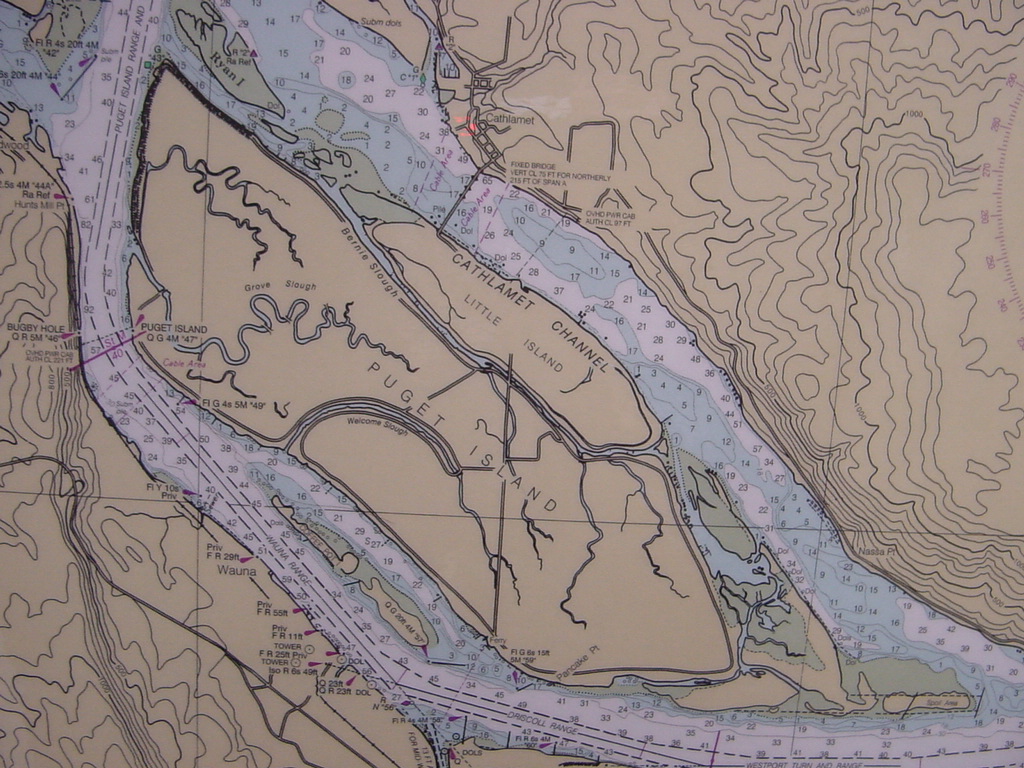 The Lower Columbia River Water Trail Web Site should not be used for navigation purposes!
For on-water navigation purposes carry a NOAA Marine Chart. For trip planning purposes, you can also utilize the Water Trail Interactive Map with a navigatoin chart background. Simply switch the base layer to Navigation Charts.
Six NOAA charts cover the 146 miles of the Lower Columbia River Water Trail. View them on-line by clicking each below.
NOAA Marine Chart 18531 - Bonneville to Vancouver (RM 146 - 107)
NOAA Marine Chart 18526 - Port of Portland, Including Vancouver, Multnomah Channel-Southern Part
NOAA Marine Chart 18525 - Vancouver to St. Helens (RM 107 - 87)
NOAA Marine Chart 18524 - St. Helens to Crims Island (RM 107-87)
NOAA Marine Chart 18523 - Crims Island to Harrington Point (RM 56 -24)
NOAA Marine Chart 18521 - Harrington Point to Pacific Ocean (RM 24 - 0)
Charts show undulations of the coastline in detail, as well as underwater rocks, mud flats, aids to navigation and details like powerlines and bridges. For additional details, paddlers should carry topo maps as well. Maps are better at showing the landscape's elevation, contours such as valleys and mountains, plus the location of town, roads, houses, and other land based developments. Paper copies of NOAA Marine charts for the Lower Columbia River are available at many local paddling shops and through a number of on-line sources.