Friday, June 21, 2019 -

10:00am

to

2:00pm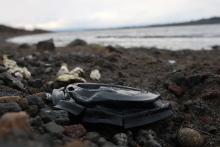 Friday, June 21 • 10am - 2pm • Hilton Vancouver Washington

Our Annual Science to Policy Summit will address plastic pollution in the lower Columbia River. Plastics are an integral part of daily life. But too much of it ends up in our rivers, streams, and oceans, causing harm to wildlife and human health. Over time, plastics break down into toxic components and are ingested by many fish and other seafood, making their way up the food chain.
In particular, the use of single-use plastics has increased exponentially in recent decades. Straws, food packaging, single-use grocery bags—these products are not meant to last and readily break down into toxic components. Gather with the Estuary Partnership, local business representatives, scientists, and policymakers on Friday, June 21 as we discuss what we know, what is being done, and what we need to do to reduce single-use plastics.
Key questions we will explore include:
What do we know about the scope of the problem along the lower Columbia River?
How does plastic pollution, and especially microplastics, affect the ecology of the river and keystone species like salmon?
What steps are restaurants, grocery stores, and municipalities taking to reduce their use of plastics?
What impediments do they have to greater plastics reduction?
Our panel will include:
Hillary Barbour - Burgerville
Jocelyn Quarrell - Go Box
Thomas Rozwod - NORPAC
Betty Shelley - Reduce Your Waste Project
Ashley Lopez - Trash for Peace
Alli Kingfisher - Washington Department of Ecology
Location:
Hilton Vancouver Washington
301 W 6th Street
United States