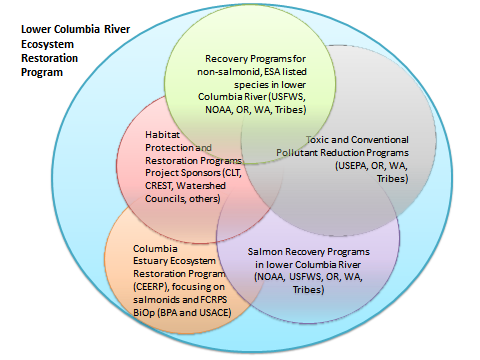 The Estuary Partnership's Habitat Restoration Prioritization Strategy was developed within the framework of our Comprehensive Conservation and Management Plan, which calls for restoring the lower Columbia River's biological integrity and ecosystem structure and function. The lower River and it's estuary historically supported diverse and abundant populations of fish and wildlife, including some of the world's largest stocks of Pacific salmonid species. Anthropogenic changes dating back to the 1800s have significantly reduced the quantity and quality of habitat available to fish and wildlife species. As a result, ecosystem-based restoration of these habitats has become a regional priority, in order to recover its historic productivity and diversity of fish and wildlife. The Restoration Prioritization Strategy provides a framework for the Estuary Partnership and its regional partners to carry out ecosystem-based habitat restoration in a scientifically sound manner, and ensure that funding dollars are being applied to technically sound and strategically located projects which will provide the greatest overall benefit to the ecosystem as a whole. The Strategy is part of the larger Lower Columbia River Ecosystem Restoration Program, the umbrella program that encompasses the restoration goals and objectives of all regional partners.
The Estuary Partnership has been developing and refining the Restoration Prioritization Strategy since 2005. To download a version of the draft document, click here.
Restoration Prioritization Strategy GIS Data
As part of the Strategy, the Estuary Partnership has compiled several GIS data sets which can be used as tools to help inform restoration efforts. These include a set of lines of evidence data models that serve as review criteria for the Estuary Partnership's habitat restoration project funding process; as well as an additional set of landscape assessment data sets which can provide additional help in identifying areas which may be most suitable for ecosystem restoration targeting single or multiple species. All of these data sets can be used in combination, or as stand-alone tools, depending on the focus and goals of the user. We are in the process of making these layers available in our GIS data library.
All data sets included in the Strategy that were developed by the Estuary Partnership used funds provided by the U.S. Environmental Protection Agency and Bonneville Power Administration.
The geographic extent of all data sets included in the Restoration Prioritization Strategy includes at a minimum the full extent of the lower Columbia River floodplain. We define this boundary as the extent of the Level 3 Hydrogeomorphic Reaches, from our recently completed Columbia River Estuary Ecosystem Classification. Some of the data sets extend further, into our larger Study Area.
Viewing and Accessing the data
The data layers can be viewed in the interactive map application at the bottom of this page. We also include in this map information about existing habitat restoration activity that has been completed in the lower Columbia River, most of which have been targeted primarily at the recovery of ESA listed salmonid species. Individual data sets are also viewable (and in some cases, downloadable), using the links below. We are currently working to make all of the layers and associated metadata available for download. Please check back for updates, or contact LCEP's GIS staff for access to data that is not currently available.
Included GIS data sets: Primary Lines of Evidence
Developed by the Estuary Partnership in 2010 with EPA funding. Includes a land cover change analysis for the lower Columbia floodplain, dating back to the late 19th century. Source data for this analysis included our recently acquired high resolution land cover data, and historical data sources that include Office of the Coast Survey topographical survey data, and General Land Office survey maps. These historical data sources have been interpreted and converted to GIS data sets by the University of Washington WET lab, and the Oregon Biodiversity Information Center, respectively. Comparison of current data to the historical provides a detailed perspective of the changes in habitat types which have occurred over approximately the last 120 years. Knowledge of where various habitats have been lost, and in what quantitites, provides a sense of what is required to restore the diversity and range of habitats that comprised the historical landscape.
Developed in 2010 by Batelle's Pacific Northwest National Laboratory Marine Sciences Lab with funding provided by the EPA, this data set uses outputs from a hydrodynamic model to predict locations that provide suitable in-water habitat for juvenile Chinook salmon. The hydrodynamic model was developed by the Oregon Health and Science University's Center for Coastal Margin Oberservation and Prediction. Model criteria include water temperature, depth, and velocity. Suitability thresholds for each criteria were adopted from previous similar studies. Model results from a typical high, medium and low flow year provide an indication of how dam discharge influences the stability of habitat patches. From a restoration perspective this data is useful because it provides an indication of the capacity of the system to support fish populations, as well as the relative quality of in-water habitats in proximity to floodplain restoration projects which are being considered. Different restoration techniques may then be considered based on the in-water conditions.
The states of Oregon and Washington have designated various lower Columbia River tributaries as priorities for restoration and conservation in their salmon and steelhead recovery plans. In addition, NOAA has developed a model which identifies certain locations within the mainstem lower Columbia and the tidally influenced portions of various tributaries as being critical habitats for supporting juvenile lower Columbia River 'Tule' Chinook populations. The Estuary Partnership has incorporated both of these data sets into its Habitat Restoration Strategy.
The Columbian White-tailed Deer is an endangered subspecies of white-tailed deer. Once ranging over much of western Washington and Oregon, it now exists in two remnant populations, one of which is located within the Julia Butler Hansen National Wildlife Refuge, near Cathlamet, WA. This location is less than optimal for the long term recovery and viability of this species, due to periodic flooding as well as the existence of man-made and natural barriers which prevent expansion into useable habitats, among other factors. To address this limitation, portions of this population are being translocated in order to expand the population range and reduce probability of extinction. The Estuary Partnership, in collaboration with the United States Fish & Wildlife Service and with funding provided by the Bonneville Power Administration, has developed a habitat suitability model for the Columbian White-tailed Deer, which encompasses the entire historical range for the species. The model identifies suitable habitats for translocation, based on various landscape attributes including elevation, land cover type, and habitat patch size and connectivity.
Included GIS Data Sets: Additional Landscape Assessment Tools
While not part of the Prioritization Strategy, these data sets are included in the map to further help inform restoration efforts
Landscape Disturbance Model
Developed in 2006 by the Pacific Northwest National Laboratory's Marine Science Lab, with funding provided by Bonneville Power Administration. The Landscape Disturbance Model incorporates data for a series of stressors to model relative anthropogenic disturbance of the lower Columbia River floodplain at 2 spatial scales: site and landscape. At the landscape scale the floodplain is comprised of 60 'Management Areas' whose boundaries are defined by the USGS HUC 6 sub watersheds. The site scale uses smaller catchment boundaries, to divide the floodplain into approximately 2100 'sites.' The relationship between the disturbance score at the landscape versus site scales can be used to predict what types of restoration strategies may have the highest probability of success for a given location.
The tidally impaired lands data set provides an estimate of tidal and fluvial extents within the floodplain, based on recent water surface elevation data measured at several stations throughout the lower river. Historically, much of the floodplain was hydrologically inundated on a regular basis, through daily tidal fluctuation, seasonal fluvial events (such as spring runoff from snowmelt), or the combined effects of both. Through a combination of factors, (including reduced flows as a result of controlled dam releases, as well as construction of levees and tidegates for flood protection and conversion of lands to agricultural use) much of this land is now isolated from regular hydrological influence, resulting in a significant loss of available habitat for juvenile salmonids and other species. This data layer can be used to locate these isolated areas, and in combination with other data (such as land parcel ownership) can be used to identify areas which could potentially be available for restoration.
Includes flow barriers such as culverts, tidegates, and water control structures. Sources include state of Oregon and Washington barrier inventories as well as LCEP's tidegate inventory
Public land parcels taken from OR and WA county parcel data sets
Lower Columbia 2009 Land Cover Data set
High resolution land cover data classification of the lower Columbia floodplain created from 2009 NAIP aerial imagery
Restoration Strategy Data Sets In-Progress
The following data sets, not yet completed, may be added to the Prioritization Strategy in the future
Pacific Coast Joint Venture - Designated Pacific Flyway Habitats
The Lower Columbia River Implementation Plan (Pacific Joint Venture, 1994) identifies approximately 26,000 hectares (64,200 acres) of habitat within the lower Columbia River study area set aside for protection, as of 1994. The plan includes a list of habitat objectives for protecting overwintering, migratory, and nesting bird habitats in the lower Columbia. These objectives include stated acreage goals for various restoration and conservation strategies, based on maintaining targeted population sizes for various waterfowl species. The plan has not been updated recently, and the quantity and locations of protected habitats, as well as bird abundances, have significnatly changed since the plan went into effect in 1994. As part of the Habitat Restoration Strategy, our objective is to re-examine the original objectives to determine whether the targeted goals need to be updated. We plan to use land ownership in conjunction with our recent land cover data to determine where the objectives are being met, where gaps exist, and what additional lands are available.
Toxic Contaminants "Hot Spots"
For this line of evidence, the Estuary Partnership is collaborating with the United States Environmental Protection Agency (USEPA) Toxics Reduction Working Group. In 2011, we compiled a geodatabase of chemical contaminant location data for the lower Columbia River mainstem and tributaries. This effort expanded the USEPA "Columbia River Basin: State of the River Report for Toxics" (2009), which was limited to flame retardants, mercury, dichlorodiphenyltrichloroethane (DDT) and polychlorinated biphenyls (PCBs) in fish. The expanded data set is useful for identifying where problem areas are located relative to potential areas that are being considered for restoration, and the status of these 'hot spots' with respect to how they are being prioritized for clean up.
Marginal Agricultural Lands
In order to gain support for lower Columbia River ecosystem restoration from the local agricultural community and other large landowners, the Estuary Partnership is attempting to work with the Natural Resources Conservation Service (NRCS) to map agricultural areas within the floodplain. This model would differentiate between higher value agricultural areas and lesser value areas which may be more readily adapated to ecosystem wide habitat restoration efforts. Inputs to the model would include NRCS soils information, land cover, and economic data, among other things.
Developed by the Estuary Partnership, with funding provided by Bonneville Power Administration. In 2006, the Estuary Partnership collected georeferenced video footage of approximately 600 miles of the lower Columbia River shoreline. Interpretation of this data within a GIS allowed for the creation of a data set representing the condition of the shoreline. The data provides a basic distinction between 'modified' and 'natural' areas of shoreline, and also includes various anthropogenic features that are present at any given location, including pile structures, docks, levees, shoreline armoring, and related features.
Read more about the Shoreline Condition data set, view in a separate map, and download data and/or reports >> Coming Soon
Habitat Restoration Strategy Interactive Map