Location:
721 NW 9th Avenue
Portland, OR 97209
503.227.6225





Contact:
Syndey Mead
The Jean Vollum Natural Capital Center might be the area's "greenest" building. Indeed, it's been certified as one of the top "green buildings" in the country by the US Green Building Council which has developed rigorous Leadership in Energy and Environmental Design, or LEED Standards to measure a building's environmental impacts. The standards award points in a variety of categories; sustainable sites, water efficiency, energy and atmosphere, materials and resources, indoor environmental quality, and innovation and design process. The Natural Capital Center received a Gold-level certification, the first historic building renovation in the nation to achieve such a status. The building was redeveloped by Ecotrust, a non-profit dedicated to building a conservation economy in the temperate rain forest region along the West Coast.
One of the reasons the Natural Capital Center scored so well is its integrated, on-site stormwater management approach that according to Ecotrust Programs Manager Sydney Mead processes 95% of its stormwater on-site.
The green approach starts at the top of the 1985 brick and timber building with an ecoroof. The roof consists of two roofing membranes, two inches of a custom soil mix, plants and mulch. While native plants were initially used exclusively on the ecoroof, Mead says that they did not do very well. "We had to tweak the initial planting mix a bit" she said, "we've added a lot more sedums to the mix and they have done great." Two garden clubs are helping with initial maintenance, and a group of interested volunteers is conducing two monitoring studies on the roof's effectiveness.
Vegetated swales receive roof runoff not captured by the ecoroof. Planted with native plants and nicely integrated into the site's landscaping, the swales also provide nice bird habitat.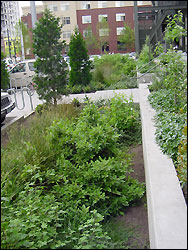 The parking lot contains the building's largest expanse of hardscaping – yet it too has been designed to maximize on site stormwater infiltration. Permeable asphalt and permeable pavers make up the majority of the parking area, which also drains to another vegetated swale. All the parking spaces are compact, maximizing parking efficiency, and minimizing impervious surfaces within a small parking footprint.
| | |
| --- | --- |
| | |
The redevelopment project has scored big on a number of fronts. One, the building is a revenue generator for the non-profit Ecotrust. Two, nestled in Portland's bustling Pearl District, the building has become a "green building" tourist attraction. Almost two years after it opened, free tours every Wednesday at noon still attract 5-15 people. School groups from kindergarten classes to graduate students have toured the site, as well as City officials from throughout the metro region. Three, the building is working. "We needed a green building, a sustainable building" said Mead. "We got it."