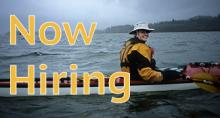 We are excited to announce that we are hiring for a Lower Columbia River Water Trail (LCRWT) Stewardship Ambassador. A generous grant from REI is funding this important work.
The LCRWT stretches 146 miles from Bonneville Dam to the Pacific Ocean, linking launch and landing sites, campsites, food, lodging, and other resources in Oregon and Washington for non-motorized boaters. The Estuary Partnership coordinated development of the water trail, launched the trail in 2004, maintains the LCRWT web-based interactive map, and coordinates trail activities.
The LCRWT Ambassador will plan, coordinate, and lead a series of four volunteer stewardship-focused paddles to four different lower Columbia River islands. Time permitting, the LCRWT Ambassador could also work on other water trail tasks, including site inventory updates, signage installation, and outreach, and assist with Estuary Partnership Big Canoe trips. Find the entire job description here, and apply online here.
Applications are only accepted online, and are due Monday, June 11 at 11:59pm.