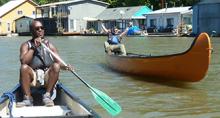 The Estuary Partnership is now accepting applications for a Summer Environmental Education Intern. Work alongside our professional educators and gain valuable job skills helping deliver our summer on-water community education program at a variety of locations throughout the lower 146 miles of the Columbia River.
College students who have completed two years of college or recent graduates are eligible to apply. We place a priority on applications from students who come from or have experience with diverse populations and underserved communities, including communities of color and communities of limited income.
The internship will start June 20, 2017 and conclude by August 24, 2017 and offers a $3,000 stipend.
Deadline to apply is May 1 at 4:00 p.m. The full intern position description can be found here. Applications are only accepted online. Apply online here.