Saturday, August 22, 2015 -

9:00am

to

11:30am
2nd Annual Love Your Columbia Paddle in partnership with Columbia Riverkeeper!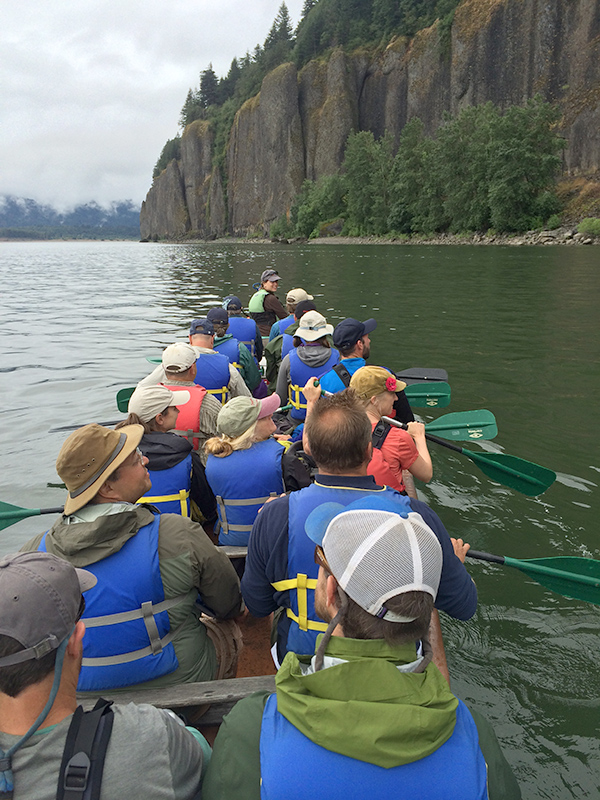 Join us for a paddle trip in the mighty Columbia River from Dalton Point to Rooster Rock State Park aboard the Estuary Partnership's 14-passenger 29' canoe! This paddle provides a wonderful venue to view wildlife and learn about the Columbia River ecosystem. Guides will be onboard to steer, offer paddling tips, and answer questions. Pre-registration required.
Who can paddle?
This paddle requires strength and stamina and is appropriate for ages 12 and up. Participants will be paddling for about 1.5 hours in the main stem of the Columbia River.


Paddlers must step down 2.5 feet into the canoe and sit on a hard bench without back support.
How do I register?
To register for the paddle, please contact Samantha Dumont by email or call 503-226-1565 x245. Include the number of adults and youth in your party, your email, and phone number.


There are limited youth spaces available.
Where do we meet?
We will meet at Dalton Point Boat Ramp at 9:00am and drop off passengers. Directions to Dalton Point. From there, drivers will take cars to Rooster Rock State Park (8-10 minute drive) where we will be ending our paddle. Estuary Partnership staff will shuttle drivers back to Dalton Point and begin the paddle from there.

Parking at Rooster Rock state park costs $5.00/day.
Do I need any equipment or special gear?
Please come prepared for the weather with appropriate jacket, sun block, sunglasses, and water.

Paddles and personal flotation devices in standard sizes are provided.

The Estuary Partnership will provide bird guides and binoculars.
Can I bring my camera?
Yes. Please be advised that we cannot guarantee the safety of electronic devices and do not provide dry bags. Occasional splashes and rain make the bottom of the boat wet, but typically gear in a pocket will stay dry. Carry at your own risk!
Are paddle trips safe?
Safety is always the first priority. Our guides are trained in on-water rescue, CPR, and Wilderness First Aid.

Water activities carry inherent risk; guides take precautions to ensure a safe paddling experience.

See our safety protocols or contact us for more information about how we stay safe on the water.
Questions?
Please contact Samantha Dumont at 503-226-1565 x 245 or sdumont@estuarypartnership.org.
In partnership with: